Yongpyong Resort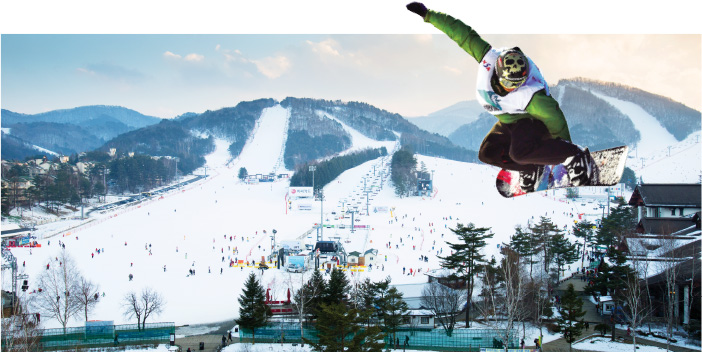 Yongpyong Resort, which opened in 1975, is the birthplace of the development and popularization of skiing in Korea. Equipped with outstanding facilities, it has successfully hosted various international events such as the FIS Alpine Ski World Cups (1998, 2000, 2003, 2006), the FIS Alpine Ski Continental Cup (Annual), and the Winter Asian Games (1999), and it is currently preparing to host PyeongChang 2018. There are 28 slopes and 14 lift facilities as well as a golf club, water park, and various accommodation facilities, allowing visitors to enjoy a relaxing holiday in a natural setting.
Slopes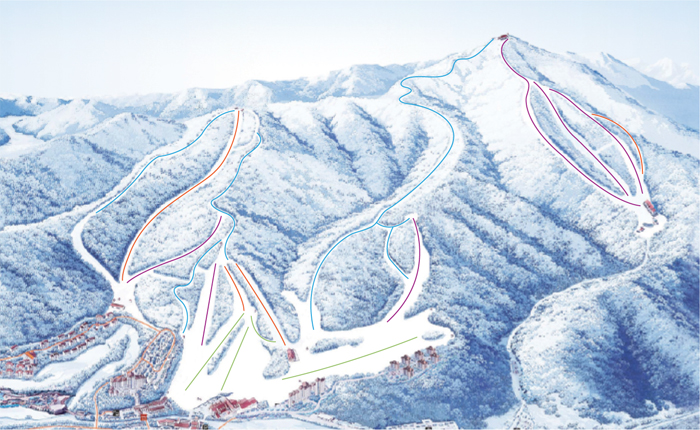 | EASY | INTERMEDIATE | EXPERT |
| --- | --- | --- |
| 10 | 7 | 11 |
Yongpyong Resort has 28 slopes and 14 lift facilities. The main slope, "Rainbow Paradise," is a long-distance course measuring approximately 6km, offering the utmost experience. The 1.1km "Gold Slope" is also popular among ski enthusiasts. The resort also operates Dragon Park, a place to enjoy various performances.
Information
General information

ADDRESS

715 Olympic-ro, Daegwanryeong-myeon, Pyeongchang-gun, Gangwon-do

TELEPHONE

+82-33-335-5757 / +82-2-3270-1231~1233 for foreigners

WEBSITE
SKI AREA

16,200,000㎡ [28 slopes / 14 lifts]

HOURS

Day time 8:30~16:30 / Night Time 18:30~22:00
Transportation

- Public transportation

Incheon Int'l Airport (First-floor platforms 9B, 9D, 4B, 11A, 10C) › Dong Seoul Bus Terminal › Hoenggye Intercity Bus Terminal (Take a taxi) › YongPyong Resort (4 hours)

- Express Railway (KTX)

Incheon International Airport › PyeongChan(Jinbu Station, 98 minutes)
Seoul › PyeongChang(Jinbu Station, 58 minutes)


- Shuttle bus

1. Incheon Int'l Airport

(Platform 9C) ›

YongPyong Resort

(3 hours, 20 minutes)

*Inquiries: +82-2-2132-8821, yp@tourtokorea.com

2. Seoul

(Myeong-dong Station, Sports Complex station) ›

YongPyong Resort

(2 hours, 50 minutes)

*Inquiries: +82-2-335-5889 /

www.purpleskibus.com

Shuttle bus

Incheon Int'l Airport

Resort

Shuttle bus

Myeong-dong Station

Resort
Special features
Peak Island

Korea's first alpine water park, Peak Island, is located 700m above sea level, the most comfortable altitude for the human body. Themed "Snow themed Winter in Summer," it consists of one underground floor and four aboveground floors and can accommodate over 3,500 visitors at once.

Gondola Tour

The gondola tour, which stretches over Asia's longest course of 7.4km, offers a breathtaking view of Balwangsan Mountain. The view of Yongpyong Resort at the summit of the mountain is also filled with magnificence you will not find anywhere else in the world. The experience will offer you an unforgettable memory beyond joy.




※Please check availability before using the facility.

※Inquires_ 033-330-7423 Extension_ 7423
Other Facilities
Lodging

Hotel(195), Condo(958), Youthhostel(73)

Leisure facilities

Water park, Golf club, Tourist gondola, Mountain Coaster, Year-round sledding slope, Zip line, Amusement park

Other

Banquet hall, Outdoor stage, Entertainment facilities, Sauna, Shopping mall