Ganghwa Seaside Resort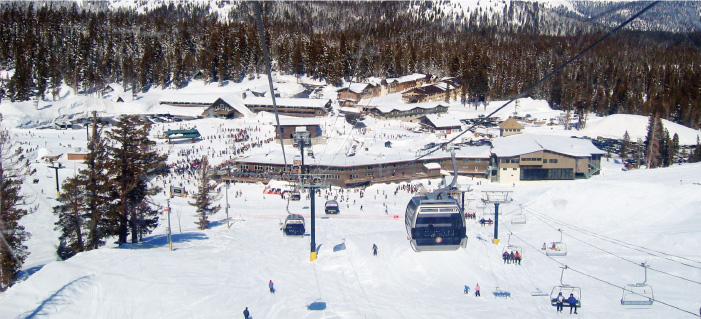 This complex resort is the only one in the Western metropolitan area and it is composed of themed attractions for all four seasons. Ganghwa Seaside Resort is located 50 minutes away from Gangnam and Myeong-dong, Seoul. The resort plans to open the various entertainment facilities step by step. Phase 1 (Planned for May 2018 open) will include a gondola lift, luge, healing trails, and a rotating observatory. Phase 2 (Planned for Dec 2020 open) will be a ski slope, snow sled, condominium etc. A special feature of the resort will be a luge, a non-powered wheel-sled racing down the sloped track. The directions and speed of the luge can be freely adjusted, and everyone can enjoy it. The top station sky terrace overlooks the sea on three sides Ganghwa Seaside Resort is Korea's first ski resort on the seaside. There is a high standard at the resort, including restaurants, cafes and various performances connected with the healing trails.
Slopes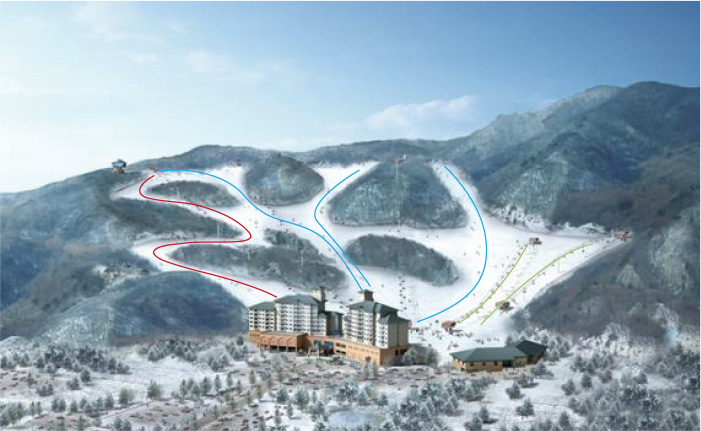 | EASY | INTERMEDIATE | EXPERT |
| --- | --- | --- |
| 2 | 3 | 1 |
Ganghwa Seaside Resort is situated by the blue ocean where you can enjoy the beauty of the four seasons throughout the year. The resort has six slopes, with an inclination of 7 to 15 degrees, ideal for beginner and intermediate skiers. It will have two lifts and one gondola, a ski school, and five Sunkid conveyors for beginners.
Information
General information

ADDRESS

281-1, Seondu-ri, Gilsang-myeon, Ganghwa-gun, Incheon

TELEPHONE

TBA

WEBSITE

TBA

SKI AREA

645,225㎡ [6 slopes / 3 lifts]

HOURS

Day time 09:00-16:30 / Night Time 18:00-23:00
Transportation

- Public transportation

1. Incheon Int'l Airport

(Airport Railroad) ›

Geomam station

(Exit 3, take bus No.800) ›

Ganghwa intercity bus terminal

(Take a bus) ›

Ganghwa Seaside Resort

(5-minute walk) (2 hours)

2. Seoul City Hall

(Bus No.8601 (red bus)) ›

Punggyeong Village

(Take a taxi, 30-minute ride, about 15,000 won) ›

Ganghwa Seaside Resort

Public transportation

Incheon Int'l Airport

Resort

Public transportation

Seoul

Resort
Special features
Gondola

Ganghwa Seaside Resort will run the latest-model eight-seat gondola from the ski house to the observatory on the summit. During the winter ski season, the gondolas will open to all level slopes, and during off-season, they will connect visitors to beautiful trails, the observatory, and other facilities nestled amid nature.

Rotating observatory

Located at the base of the gondola, this observatory offers magnificent views of the vast sea. It also houses a restaurant, a cafe, a theater, an animal farm, sledding slopes and various other attractions. The observatory makes one full revolution per hour, and visitors can enjoy 360° views while enjoying a meal or a drink.
Other Facilities
Lodging

Unknown

Leisure facilities

Golf course (18 holes, open for members only), Sledding slope (summer season), Gondola

Other

Rotating observatory, Trails, Restaurants, Cafes, etc.