Eden Valley Resort
Eden Valley Resort, Korea's southernmost ski resort, is located at the foot of the Gajisan, Cheonseongsan and Sinbulsan mountain range, which is referred to as the "Alps of Korea." It features seven slopes measuring 6km in total, with the longest slope measuring 1.5km, and offers the latest POMA ultra-fast lifts that can transport 16,000 people per hour. In addition to the ski slopes, the resort also offers a horseback riding course, water park, and condominium, allowing families to enjoy leisure and relaxation at the same time.
Slopes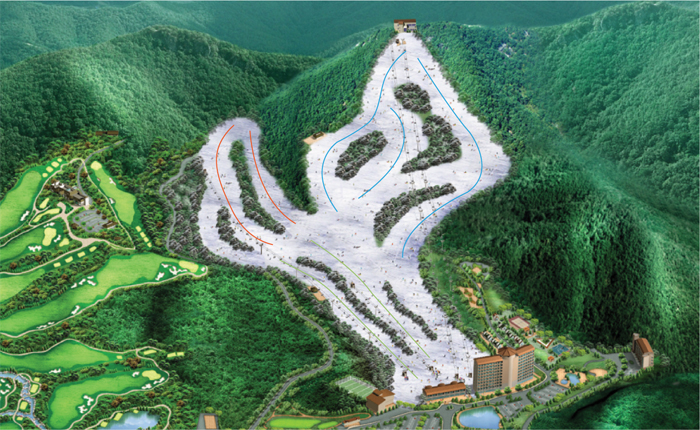 | EASY | INTERMEDIATE | EXPERT |
| --- | --- | --- |
| 2 | 2 | 3 |
Eden Valley Resort offers seven slopes. Uranus, the longest course, boasts a considerable size at 1,495m long and 54m wide. The other slopes have also been designed according to the smooth, gentle terrain, making them ideal for families and beginners.
Information
General information

ADDRESS

1206 Eosil-ro, Wondong-myeon, Yangsan-si, Gyeongsangnam-do

TELEPHONE

+82-55-379-8000

WEBSITE
SKI AREA

740,000㎡ [7 slopes / 3 lifts]

HOURS

Day time 09:30-17:00 / Night Time 19:00-01:00
Transportation

- Public transportation

1. Incheon Int'l Airport (First-floor platforms 9B, 9D, 4B, 11A, 10C) › Dong Seoul Bus Terminal › Yangsan Intercity Bus Terminal (Take a taxi) › Eden Valley Resort (5 hours, 30 minutes)
2. Gimhae Int'l Airport (Airport Railroad) › Sasang Station (Transfer to Subway Line 2) › Yangsan Station(Take bus no. 1000 at Yangsan Station Transfer Center) › Eden Valley Resort (40 minutes)

- Shuttle bus

1. Busan / Yangsan Station

›

Eden Valley Resort

(1 hour)

*Inquiries: +82-51-851-0600 /

www.saepusan.co.kr

(Saepusan Tour)

+82-51-522-7003

2. Daegu

›

Eden Valley Resort

(1 hour, 30 minutes)

*Inquiries: +82-53-424-0051 /

www.acethema.co.kr

(Hana Tour)

Shuttle bus

Incheon Int'l Airport

Resort

Shuttle bus

Busan

Resort
Special Features
Namaste Glamping "Eden Valley Namaste Glamping" opened in January 2015. It offers 25 glamping rooftops and 25 cabana trailers and is located within Eden Valley Resort, giving access to the ski slopes, shared barbecue area, sauna, swimming pool, and other resort facilities.
http://blog.naver.com/togocamping

Spateria(Sauna house)

Located on the B1 floor of the condo, Spateria will make your stay at the resort cozier, friendlier and more memorable. Spateria closes on Mondays except during the winter.
Other Facilities
Lodging

Condo(255)

Leisure facilities

Golf club, Tracking course, Leisure sports town, Water park, Spateria, Horseriding course, Glamping site

Other

Banquet hall, Supermarket, EntertainMent facilities