Deogyusan Resort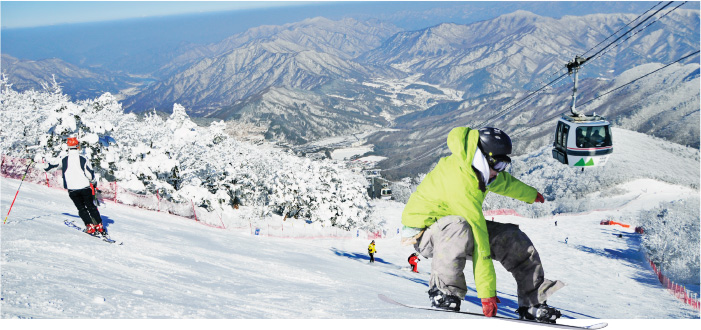 Deogyusan Resort is located in the beautiful natural setting of Deogyusan National Park. It has an outstanding winter snowscape where skiers can enjoy breathtaking views of the natural landscape as they cruise down the slopes. Since opening in 1982, the resort has maintained its status as "Korea's largest ski slope." It features 21 unique slopes, offering something for skiers of all levels.
Slopes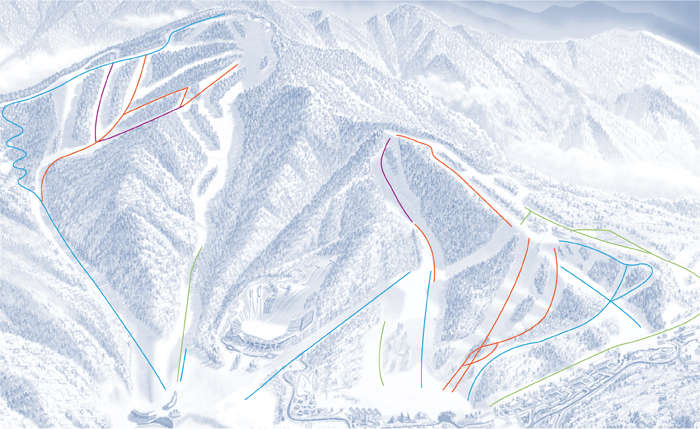 | EASY | INTERMEDIATE | EXPERT |
| --- | --- | --- |
| 3 | 12 | 6 |
The Silk Road slope is Korea's longest ski slope at 6.1km, and the Raiders slope is Korea's steepest at a maximum steepness of 70%, offering an unmissable experience to eager skiers. There are 21 slopes in total and one eightperson gondola, seven automatic lifts, and six fixed lifts.
Information
General information

ADDRESS

185 Manseon-ro, Seolcheon-myeon, Muju-gun, Jeollabuk-do

TELEPHONE

+82-63-322-9000 (EN)

WEBSITE
SKI AREA

7,018,600㎡ [21 slopes / 14 lifts]

HOURS

08:30~24:00
Transportation

- Public transportation

Incheon Int'l Airport (Airport Railroad) › Gimpo Int'l Airport Station (Transfer to Line 9) › Express Bus Terminal Station(Transfer to Line 3) › Nambu Bus Terminal Station (Walk to bus terminal and take but to Muju at platform 11) › Muju Intercity Bus Terminal (Take shuttle bus in front of Jeil Clinic) › Deogyusan Resort (3 hours, 50 minutes)

- Shuttle bus

1. Seoul

›

Deogyusan Resort

(3 hours)

*Inquiries: +82-2-2201-7710 /

www.kdtour.co.kr

(Daewon Tour)

2. Muju

(Seolcheon-myeon, Gucheon-dong) ›

Deogyusan Resort

(50 minutes)

*Inquiries: +82-63-320-7113

Public transportation

Incheon Int'l Airport

Resort

Shuttle bus

Seoul

Resort
Special features
Kids' Land

Deogyusan Resort features a special place of childlike innocence, allowing even adults to relive their childhood days. With thrilling rides such as water sleds, the New England (Dancing Fly, Super Swingers and Flying Jets), the Viking, and a merry-go-round, Kids' Land offers an exciting experience.

Muju Country Club

As Korea's highest-altitude golf course, Muju Country Club is a place where golfers can enjoy wildflowers in full bloom as well as therapeutic woodland walks. It consists of 18 holes, each with distinct characteristics. Hole 18 is the most difficult.
Other Facilities
Lodging

Hotel (118), Condo(974), Youthhostel(100), National Hotel(418)

Leisure facilities

Golf club, Gondola, Children's amusement park, Outdoor swimming pool, Indoor survival, Games center, Sports facilities

Other

Woodcraft experience center, Herb farm, Club, Entertainment facilities