Konjiam Resort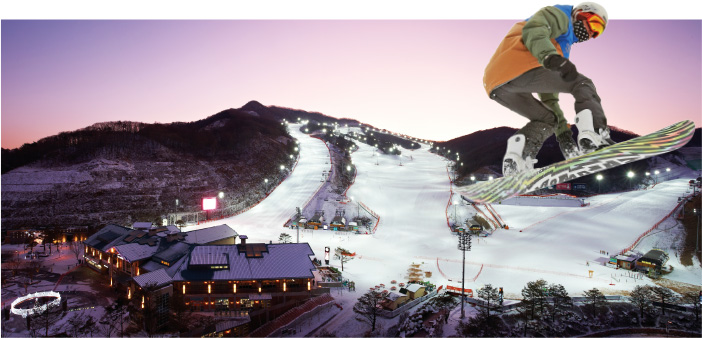 Konjiam Resort features an American-style interior and offers a wide range of facilities including the largest ski slope in the metropolitan area, a spa, and an arboretum. More than 70% of the nine slopes are designed for beginner, intermediate, and senior skiers, creating an ideal environment for families. The resort offers a variety of services including a "slope capacity system" to reduce waiting times and the time-based "ME-TIME Pass" for lifts, ensuring a pleasant skiing experience without overcrowding.
Slopes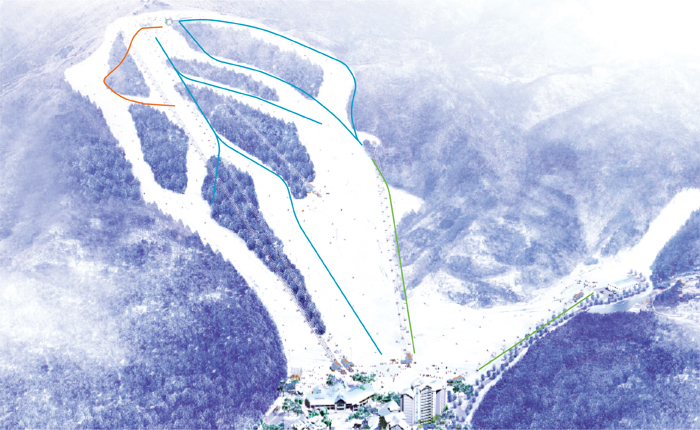 | EASY | INTERMEDIATE | EXPERT |
| --- | --- | --- |
| 2 | 6 | 1 |
There are 9 slopes and 5 lifts. The slopes measure at least 100m wide on average and up to 154m, allowing skiers to keep a safe distance from other skiers. The Windy 1 course is the most popular, measuring 1.8km long and 319m high.
Information
General information

ADDRESS

278 Docheogwit-ro, Docheok-myeon, Gwangju-si, yeonggi-do

TELEPHONE

+82-2-3777-2100

WEBSITE
SKI AREA

1,090,914㎡ [9 slopes / 5 lifts]

HOURS

Day time 09:00-18:00 / Night Time 19:00-04:00
Transportation

- Public transportation

Incheon Int'l Airport (Airport Railroad) › Hongik University Station (Transfer to Subway Line 2) › Gangnam Station (Transfer to Sinbundang Line) › Pangyo Station (Transfer to Gyeonggang Line) › Konjiam Station (Take free shuttle bus) › Konjiam Resort (2 hours, 30 minutes)

- Shuttle bus

Seoul

(Sadang, Jamsil region and other locations) ›

Konjiam Resort

(1 hour)

Public transportation

Incheon Int'l Airport

Resort

Shuttle bus

Jamsil

Resort
Special features
Konjiam Gallery Darr

Gallery Darr opened at Konjiam Resort in 2008. Unlike other resorts, Konjiam Resort directly manages the gallery, which has an on-site curator at all times, and offers only special feature exhibits.

Spa

Konjiam Resort features Wellness Spa offering a rejuvenating experience through nutrition techniques, stress management, and exercise techniques; Family Spa for the whole family to enjoy; and WHOO Spa Palace, where visitors can discover exquisite beauty through special products that were once used by the Korean royal family.
Other Facilities
Lodging

Condo(476)

Leisure facilities

Spa, Golf club, Sports facilities, Indoor swimming pool, Trail, Eco-stream, Shuttle train, Gondola

Other

Gallery, Sauna, 4D experience center, Entertainment facilities