Elysian Gangchon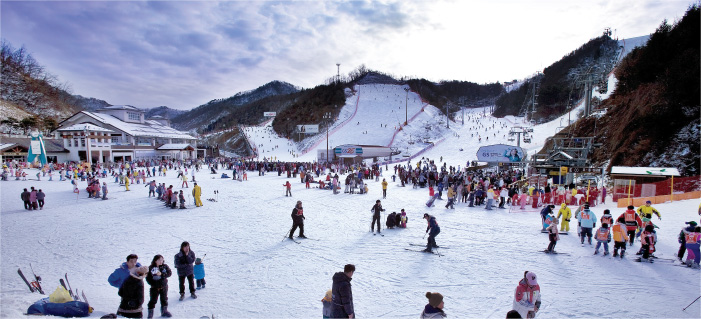 Elysian Gangchon is a comprehensive resort combining condominiums, a golf course, and ski slopes. Sports and leisure can be enjoyed amid nature all year round. The greatest advantage of Elysian Gangchon is that it is connected to Seoul by subway. The metropolitan city subway connects people to Chuncheon and the ski resort allowing skiers and boarders to enjoy the snow without the hassle of having to go through traffic. The resort operates a ski and snowboard school for beginners, and amenities such as a restaurant, a bar, and sporting goods shops are available for guests' convenience.
Slopes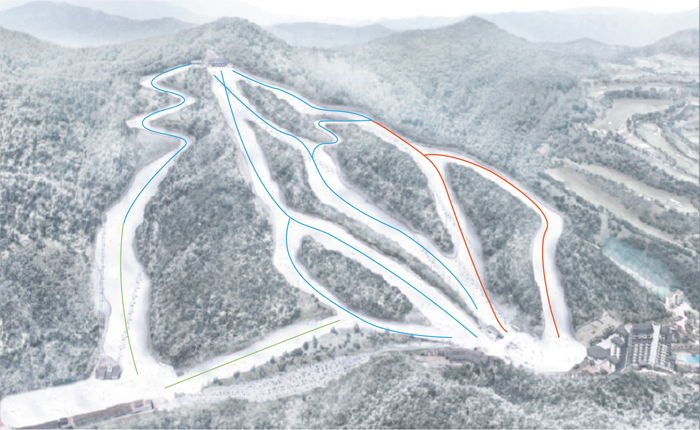 | EASY | INTERMEDIATE | EXPERT |
| --- | --- | --- |
| 2 | 6 | 2 |
There are 10 slopes, with the most popular being "Pegasus" at 1,045m high and 300m of steepness. There are eight beginner and intermediate slopes, making a popular resort among novice skiers and snowboarders.
Information
General information

ADDRESS

688 Bukhangangbyeon-gil, Namsan-myeon, Chuncheon-si, Gangwon-do

TELEPHONE

+82-33-260-2000

WEBSITE
SKI AREA

2,014,800㎡ [10 slopes / 7 lifts]

HOURS

Day time 09:00-17:00 / Night Time 18:30-24:00
Transportation

- Public transportation

Incheon Int'l Airport (Airport Railroad) › Gongdeok Station (transfer to Gyeongui-Jungang Line) › Sangbong Station (transfer to Gyeongchun Line) › Baegyangni Station (walk, or take shuttle) › Elysian Gangchon (2 hours, 30 minutes)

- Shuttle bus

1. Chuncheon

›

Elysian Gangchon

(40 minutes)

2. Baegyangni Station

(Gyeongchun Line) ›

Elysian Gangchon

(5 minutes)

Public transportation

Incheon Int'l Airport

Resort

Shuttle bus

Chuncheon

Resort
Special features
9+ Golf Club

Named so for having one additional round to the typical half course, 9+ is the public golf course at Elysian Gangchon. It offers a sweeping view of Geombongsan Mountain, and the caddy-free system offers a much more pleasant golfing experience.

Outdoor Swimming Pool

Escape the scorching summer heat in the outdoor pool. Elysian offers different pools for adults, children and infants so that everyone can swim in a safe environment. There are also separate water slides for adults (50m) and children (4m).
Other Facilities
Lodging

Condo(222)

Leisure facilities

Golf club, Outdoor swimming pool, Themed garden, Walkways, Glamping site, Sports facilities

Other

Sauna, Massage parlor, Fitness center, Entertainment facilities