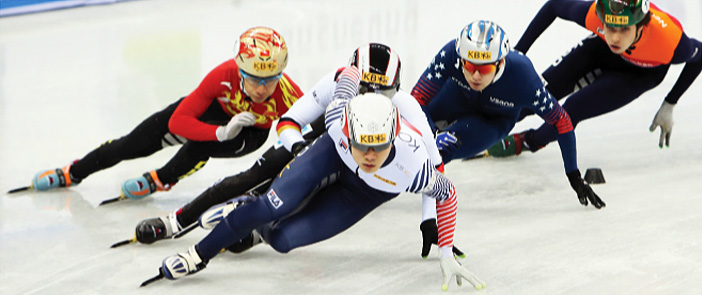 Pyeongchang, the Alps of Korea
Pyeongchang, elected as the host city of the 2018 Olympic Winter Games after three bids, is well known for its beautiful natural scenery featuring lush forests and clean rivers. Living up to its reputation for record snowfall, Pyeongchang established itself early on as the winter sports capital of Korea. Every year, swarms of winter sports enthusiasts visit Pyeongchang to enjoy the season to the fullest.
"Dream Program"
Despite having to prepare for a successful hosting of the Olympics, Pyeongchang also organizes a special event for young people around the world every year. The "Dream Program" invites youths from snowless nations who have not experienced winter sports, and offers systematic training on skiing, ice skating, and other winter sports. The program is considered a significant contributor to the global expansion of winter sports, with 1,246 participants from 62 countries so far.
Date

Feb. 9 ~ 25 (17 days), 2018
Host

Pyeongchang, Gangneung, and Jeongseon, South Korea
Scale

50,000 participants, 95 countries, 15 events
Events by stadium

Alpensia Resort

Cross-country, ski jump, Nordic combined, biathlon, bobsled, skeleton, luge

YongPyong Resort

Alpine skiing (slalom, giant slalom)

Bokwang Phoenix Park

Freestyle skiing, snowboarding

Jeongseon Alpine Centre

Alpine skiing (downhill, super G)

Gangneung Olympic Park

Speed skating, figure skating, short track speed skating, ice hockey, curling
Paralympic Winter Games
Another key aspect of the PyeongChang Winter Olympics is to witness sports excellence demonstrated by athletes with disabilities
Date :

Mar. 9 ~ 18 (10 days), 2018

Host :

Pyeongchang, Gangneung, Jeongseon

Participating nations :

Approximately 45 countries

Participants :

Approximately 3,000

Six Events :

Alpine skiing, biathlon, cross-country skiing, ice sledge hockey, para-snowboarding, wheelchair curling
Stadium Information
PyeongChang 2018 will take place in Pyeongchang, Gangneung and Jeongseon, cities in the clean and scenic province of Gangwon-do. Transportation to and from Gangwon-do and its 15 Olympic stadiums are very convenient. At these stadiums, athletes from all over the world will show off their skills, talents and passion. Pyeongchang, which posses an ideal environment for winter sports, is waiting for you with fun and inspiration.
PYEONGCHANG MOUNTAIN CLUSTER
Alpensia Sports Park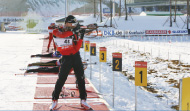 Alpensia Stadium
Capacity 50,000 / Opening and
Closing ceremonies
Alpensia Biathlon Center
Capacity 7,500 / Biathlon
Alpensia Cross-country Skiing Center
Capacity 7,500 / Cross-country
skiing and Nordic combined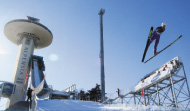 Alpensia Ski Jumping Center
Capacity 13,500 / Ski jumping and Nordic combined
Alpensia Sliding Center
Capacity 7,000 / Luge, bobsleigh
and skeleton
Yongpyeong Alpine Center
Capacity 6,000 / Alpine slalom and
alpine giant slalom
Jeongseon Alpine Centre
Capacity 6,500 / Alpine downhill,
alpine super G and alpine
combined
Bokwang Snow Park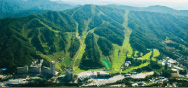 Capacity 18,000 / Freestyle skiing 、
and snowboarding
GANGNEUNG COASTAL CLUSTER
Gangneung Olympic Park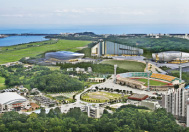 Gangneung Curling Center
Capacity 3,500 / Curling
Gangneung Hockey Center
Capacity 10,000 / Ice hockeyⅠ
Gangneung Ice Arena
Capacity 12,000 / Figure skating and short track speed skating
Gangneung Oval
Capacity 8,000 / Speed skating
Kwandong Hockey Center
Capacity 6,000 / Ice hockey Ⅱ

Hello PyeongChang Test Events
OLYMPICS
Entry
Bobsleigh/ Skeletion

Ski Jumping

Alpine Skiing

Freestyle Sking/Snowboarding

Cross-Country

Nordic combined

Luge

Figue Skating

Biathlon

Ice Hockey

Short Track Speed Skating

Speed Skating

Curling
Game
IBSF Bobsleigh/Skeleton WC

1st International Training Week

2nd International Training Week

FIS Ski Jumping WC

FIS Far East Cup

FIS Ski Ladies' World Cup

FIS Freestyle Ski WC

FIS Snowboard WC (Big Air)

FIS Snowboard WC

FIS Cross-Country World Cup

FIS Nordic Combined WC

FIL Luge WC

1st International Training Week

2nd International Training Week

ISU Four Continents Figure Skating Championships

IBU Biathlon WC

IIHF U18 World Championship Div. 2

IIHF Women's World Championships Div. 2

ISU World Cup Short Track Speed Skating

ISU World Single Distances Speed Skating Championships

World Junior Curling Championships 2017
Period
Mar. 17~19, 2017

Mar. 1~12, 2017

Oct. 23~Nov. 1, 2017

Feb. 15~16, 2017

Jan. 16~17, 2017

Mar. 4~5, 2017

Feb. 10~18, 2017

Nov. 25~26, 2016

Feb. 12~19, 2017

Feb. 3~5, 2017

Feb. 4~5, 2017

Feb. 17~19, 2017

Feb. 8~14, 2017

Nov. 1~10, 2017

Feb. 16~19, 2017

Mar. 2~5, 2017

Apr. 2~8, 2017

Apr. 2~8, 2017

Dec. 16~18, 2016

Feb. 9~12, 2017

Feb. 16~26, 2017
PARALYMPICS
Entry
Skiing

Para Snowboarding

Biathlon/Cross-country

Curling

Ice Sledge Hockey
Game
IPC Alpine Skiing WC

IPC Snowboard WC Finals

IPC Biathlon & Cross-country skiing

World Wheelchair Curling Championships 2017

IPC Ice Sledge Hockey Championship
Period
Mar. 11~18, 2017

Mar. 10~13, 2017

Mar. 10~15, 2017

Mar. 4~11, 2017

Apr. 16~23, 2017