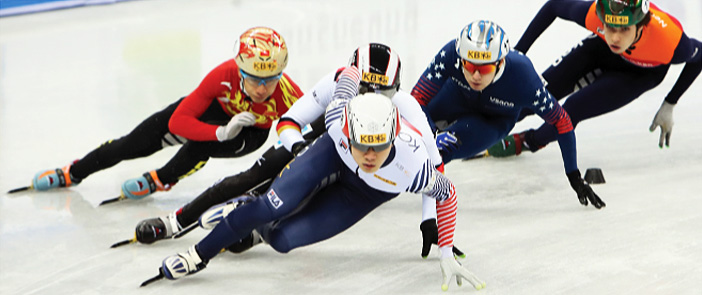 Pyeongchang, the Alps of Korea
Pyeongchang, elected the host city of the 2018 Winter Olympics after three bids, is well known for its beautiful natural scenery featuring lush forests and clean rivers. Living up to its reputation for record snowfall, Pyeongchang established itself early on as a winter sports capital. Many winter sports enthusiasts visit Pyeongchang each year to enjoy the season to the fullest.
Date Feb. 9 ~ 25 (17 days), 2018
Host Pyeongchang, Gangneung, Jeongseon
Scale 50,000 athletes from 95 countries, 15 events
Paralympic Games
Another key aspect of the Pyeongchang Winter Olympics is to witness sports excellence demonstrated by athletes with physical disabilities

Date Mar. 9 ~ 18 (10 days), 2018
Host Pyeongchang, Gangneung, Jeongseon
Participating nations 45 countries
Participants Approximately 3,000 athletes
Events Alpine skiing, biathlon, cross-country skiing, ice sledge hockey, para-snowboarding, wheelchair curling
Winter Sports Information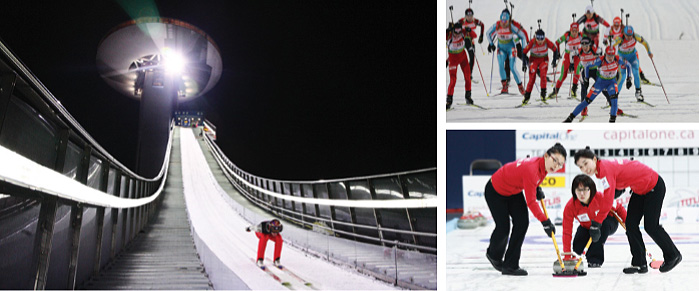 PyeongChang Mountain Cluster

Alpine Skiing Alpine skiing is a discipline where a skier goes down snow-covered slopes at a high speed on skis with fixed heel bindings.

Biathlon Biathlon is a combined sport of cross-country skiing and rifle shooting. The ranking is decided according to the skiing time and the accuracy of the shooting.

Cross-country Skiing In cross-country skiing, skiers glide across courses through snow-covered fields on skis in the shortest time frame.

Freestyle Skiing In freestyle skiing, skiers compete with artistic techniques by skiing downhill freely and performing aerial acrobatics.

Nordic Combined Nordic combined brings cross-country skiing and ski jumping together. It requires techniques and great physical strength.

Ski Jumping Ski jumping is an event where a skier jumps from a takeoff ramp and flies as far as he/she can go.

Snowboarding Snowboarding is about speeding down a slope using a board. Athletes perform showy and dynamic high-level techniques.

Bobsleigh In bobsleigh, athletes ride a steerable sled down an ice track. Two athletes comprise one team.

Luge In luge, an athlete goes down a track on a small sled while lying face up with their feet to the front.

Skeleton Skeleton is a sport where an athlete speeds down an ice track and controls a sled by using their shoulders and knees in a prone position.
Gangneung Coastal Cluster

Curling Two teams consisting of four athletes each compete by sliding the curling stones onto a target on the ice.

Figure Skating Figure skating is a sport where athletes wearing figure skates perform on the ice accompanied by music. The athletes are judged according to difficulty and accuracy as well as the aesthetic aspect of their performance.

Ice Hockey Two teams of six players each compete by using a stick to hit a rubber disk called a puck into the opposing team's net.

Short Track Speed Skating In short track speed skating on an indoor ice track wearing skates, techniques and speed are the most important elements.

Speed Skating Speed skating is a competition on a 400-meter ice track that consists of inner and outer lanes.
Events by Stadium
Alpensia Resort

Cross-country skiing, ski jumping, Nordic combined, biathlon, bobsleigh, skeleton, luge

Yongpyong Resort

Alpine skiing (slalom, giant slalom)

Phoenix Pyeongchang

Freestyle skiing, snowboarding

Jeongseon Alpine Centre

Alpine skiing (downhill, super G)

Gangneung Olympic Park

Speed skating, figure skating, short track speed skating, ice hockey, curling
Exploring
PyeongChang Winter Olympic Venues
The Winter Olympics, the world's best wintertime sports festival, will be held in Pyeongchang and Gangneung in 2018. Let's look around the Olympic venues where the actual games will be played and experience the exciting moments of the Olympics.
PyeongChang 2018 House
– till March 2018
"A realistic experience center where you can enjoy PyeongChang Winter Olympics sports"
Operating hours

10:00-18:00 (closed on Mondays)

Contents

Guide on sports of PyeongChang Winter Olympics, ice hockey experience, 4D experience
(ski jump, bobsleigh), VR experience, etc.

Inquiries

+82-33-651-1722

Admission

Free

Reservations

Available till the day before the tour on the website
Venue tour
– till January 2018 (The schedule can change due to venue setting from December 2017.)
"A differentiated tour where you can look around the inside of the venues with a guide"
1 PyeongChang Mountain Cluster – Snow sports venues
(90 minutes)
PyeongChang
Olympic Village
(viewing from bus)
2 Gangneung Coastal Cluster -Ice sports venues
(90 minutes)
Olympics briefing
and PyeongChang
2018 House
3 Weekend Tour
PyeongChang
Olympic Village
(viewing from bus)
Olympics briefing
and PyeongChang
2018 House
Operating hours

Weekdays (Tuesday-Friday) - 10:00, 14:00, 15:00, 16:00
(Weekends – 10:00, 14:00)

Inquiries

+82-33-651-1722

Admission

Free (※ Excluding Ski Jump Observatory admission fee)

Reservations

Available until a week before the tour on the website, confirmed after reservation approval [minimum 30 people, maximum 40 people (*moving by individual tour bus)]

Website

www.pyeongchang2018.com/ko/index (PyeongChang 2018 House)
Experiencing PyeongChang Winter Olympic Venues
A place where athletes from many countries who practiced hard gather and have fair competitions If you want to enjoy it in person, do not hesitate to visit!
PyeongChang Mountain Cluster
Alpensia Ski Jumping Center_
Observatory Monorail
Address

Alpensia Resort, 325, Solbong-ro, Daegwallyeong-myeon, Pyeongchang-gun, Gangwon-do

Inquiries

+82-33-339-0410 (Gangwondo Development Corporation)

Operating hours

09:25-17:55
Yongpyong Alpine Center
Address

Yongpyong Resort, San 142-3, Yongsan-ri, Daegwallyeong-myeon, Pyeongchang-gun, Gangwon-do *Olympic course available (Rainbow slope)
Phoenix Snow Park
Address

Phoenix Pyeongchang, 729-7, Mui-ri, Bongpyeong-myeon, Pyeongchang-gun, Gangwon-do *Olympic course available (parallel giant slalom, slopestyle, moguls, aerials, halfpipe, cross, etc.)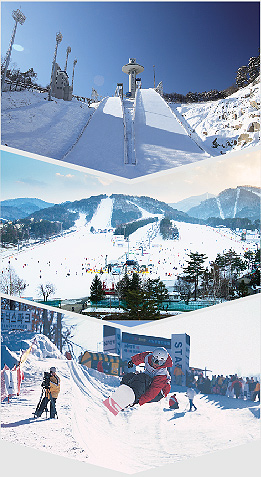 Gangneung Coastal Cluster
Gangneung Curling Center_
Gangneung Ice Skating Rink
Address

32, Jonghapundongjang-gil, Gangneung-si, Gangwon-do

Inquiries

+82-33-647-8688

Operating hours

11:00-17:00 (closed on Mondays)

Program

General opening, daily lesson, weekend lesson, special vacation class, etc.
(excluding tournament season)