Major Attractions on Line 7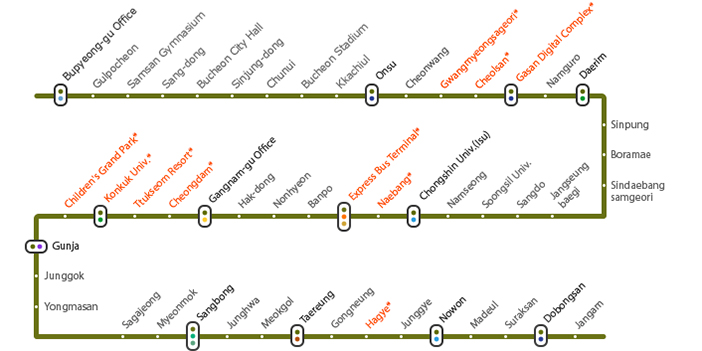 Dream Forest

7Hagye

1Wolgye

4Mia

4Miasageori

6Dolgoji

Children's Grand Park

7Children's Grand Park

5Achasan

57Gunja

Common Ground

27Konkuk Univ.

2Seongsu

Ttukseom Hangang Park

7Ttukseom Resort

K-STAR ROAD

7Cheongdam

BApgujeongrodeo

Goto Mall (Gangnam Terminal Underground Shopping Center)

379Express Bus Terminal

Some Sevit

379Express Bus Terminal

9Sinbanpo

Bangbae-dong Café Street

7Naebang

47Isu

Gasan Rodeo Street

17Gasan Digital Complex

Gwangmyeong Cave

7Cheolsan

1Gwangmyeong

Gwangmyeong Traditional Market

7Gwangmyeong Sageori
Seoul Tour by Subway Line 7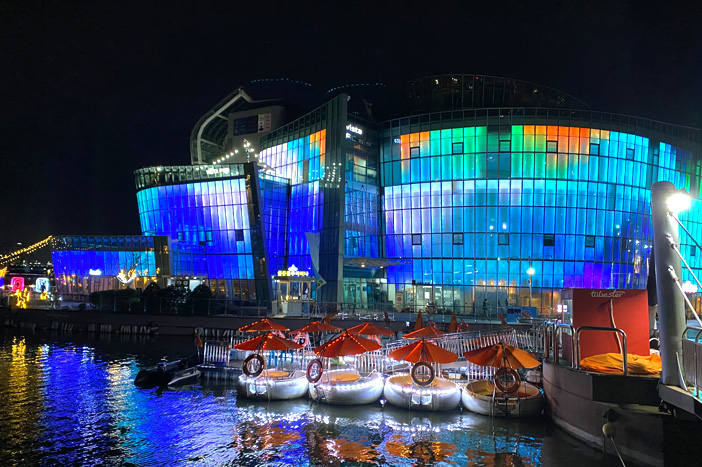 【 Photo: Some Sevit 】
Seoul Subway Line 7 spans a wide area extending from Dobongsan Mountain through the south and southwestern parts of Seoul to Gwangmyeong, Gyeonggi-do and Incheon. As it covers many different districts in and around Seoul, Line 7 offers a very dynamic trip. Travelers can experience the lively energy of traditional markets and modern shopping streets, as well as the mystical ambience of a well-equipped cave. People are also invited to enjoy exceptional facilities standing in harmony with the Hangang River, or take a stroll through an urban forest. A trip along Line 7 will make you feel as if time is literally flying by.
Dream Forest
7Hagye Station
1Wolgye Station
4Mia Station
4Miasageori Station
6Dolgoji Station
【 Photo: Dream Forest 】

【 Photo: Dream Forest Visitors Center 】
Hagye Station, Exit 5, approx. 15-min by bus (No. 100)
Dream Forest is a huge park that covers six districts in Seoul from Gangbuk-gu to Dobong-gu. The park offers beautiful scenery all year round with cherry blossoms in spring, traditional landscape of Wolyeongji Pond and Wolgwangpokpo Falls in summer, fall foliage of maple tree forest in autumn, and view of snow-covered mountains from the observatory in winter. A detailed map of the park is available in Korean, English, Japanese, and Chinese near the Visitors Center. Visitors can stop by the center in advance to plan their course around the park.
Children's Grand Park
7Children's Grand Park Station
5Achasan Station
5, 7Gunja Station
【 Photo: Children's Grand Park 】
Children's Grand Park Station, Exit 1, approx. 10-min walk
Children's Grand Park is a nature-friendly park that features a wide range of programs and facilities perfect for family, couples, and friends. The park is especially popular in spring for cherry blossoms and fall for colorful leaves. The park is divided into different areas such as a zoo, botanic garden, and amusement park.
Common Ground
27Konkuk Univ. Station
2Seongsu Station
【 Photo: Common Ground 】
Konkuk Univ. Station, Exit 6, approx. 5-min walk
Built using 200 shipping containers, Common Ground is a pop-up container shopping mall housing trendy clothing brands, eateries and more. After shopping inside the container mall, you can step outside to the large square at the center to take in the sunlight. Thanks to the mall's effort in introducing a vast selection of retail stores and food businesses, visitors here have no time to be bored. The food trucks in the outdoor terrace and the square offer plenty of gastronomic delights.
Ttukseom Hangang Park
7Ttukseom Resort Station
【 Photo: Ttukseom Hangang Park
Jabeolle Culture Complex ('J-Bug') 】

【 Photo: Panorama of Ttukseom Hangang Park 】
Ttukseom Resort Station, Exit 2, approx. 10-min walk
A unique structure will capture the attention of travelers in the Ttukseom Resort area. It is the Ttukseom Observatory and Culture Complex, better known as the Jabeolle (meaning inchworm) or J-Bug, which has become the symbol of Ttukseom Hangang Park. This 240-meter long cylindrical-shaped facility creates an uncanny contrast against the adjacent train bridge and overpass. On days when the weather is nice, the park's grass field is often crowded with people who bring their lunch and mats for a picnic by the Hangang River.
K-STAR ROAD
7Cheongdam Station
BApgujeong Rodeo Station
【 Photo: K-STAR ROAD 】
Cheongdam Station, Exit 9, approx. 20-min walk
There are many large entertainment management agencies in the neighborhood of Cheongdam-dong, and the K-Star Road has become a must-visit site for hallyu fans. Travelers can spot teddy bear-like art statues called "GangnamDol" located along the strip.
Goto Mall (Gangnam Terminal Underground Shopping Center)
379Express Bus Terminal Station
【 Photo: Goto Mall 】
Express Bus Terminal Station, Exit 3, approx. 5-min walk
Goto Mall, a contraction of the Korean words "gosok teomineol," referring to "express bus terminal" in English, is an 880-meter long underground alley that consists of stores. Goto Mall offers the latest trends in clothing, accessories and cosmetics at reasonable prices, which is why the mall is frequented by young women. The mall also features interior design products, furniture and wholesale flowers.
Some Sevit
379Express Bus Terminal Station
9Sinbanpo Station
【 Photo: Some Sevit 】
Express Bus Terminal Station, Exit 6, take a shuttle bus running in 15-min intervals
* Shuttle Bus Schedule
Express Bus Terminal Station → Some Sevit: 11:00-22:00
Some Sevit → Express Bus Terminal Station: 11:15-22:15
* Refer to website for details: www.somesevit.com (English)
Some Sevit means "Three Shining Islands" in Korean. It features a set of uniquely designed structures floating on the surface of Hangang River. Some Sevit consists of three artificial islands named Gavit, Chavit, and Solvit respectively, and Yevit, which is used for staging performances against the spectacular backdrop of the Hangang River. Gavit and Chavit contain restaurants, cafés, wedding halls, a character shop, and more, while Solvit holds a wide range of exhibitions and Yevit hosts cultural events such as concerts, classic performances, movie showings, and more. Visitors can bring their own foods and beverages and get on a boat in front of Gavit to enjoy the Hangang River view. At night, multi-colored lights illuminate the outer walls of the three structures, creating a truly romantic sight along with the night view of the nearby Banpodaegyo Bridge. Gavit appeared as Dr. Cho's laboratory in the movie "Avengers: Age of Ulton (2015)."
Bangbae-dong Café Street
7Naebang Station
47Isu Station
【 Photo: Water fountain at Bangbae-dong
Café Street 】
【 Photo: Vintage coffee shop on
Bangbae-dong Café Street 】
Naebang Station, Exit 5 or 6, approx. 20-min walk
The Café Street in Bangbae-dong is a popular date spot due to the many sweet dessert shops and cafés. Despite the name, the street also features bars and restaurants selling international cuisine. The boulevard has now turned into an atmospheric part of town, where people come after dusk for a drink or two. With this street as the core, the surrounding neighborhoods extending from Seorae Village in Banpo-dong, to Bangbae Sai-gil Road, Hamjibak Intersection, and Isu Station are also popular hangouts for young people.
Gasan Rodeo Street
17Gasan Digital Complex Station
【 Photo: Gasan Rodeo Street 】

【 Photo: Inside view of the shopping mall 】
Gasan Digital Complex Station, Exit 3 or 4, approx. 10-min walk
Formerly the site of distribution centers for clothing companies, the business district of Gasan Rodeo Street developed naturally as the companies sold quality goods at affordable prices. In recent years, a mega shopping mall, along with numerous brand shops have also sprung up in the areas surrounding the rodeo street. Equipped with coffee shops, restaurants, and a multiplex movie theater in addition to clothing stores, the shopping mall attracts crowds of people who come to spend their leisure time.
Gwangmyeong Cave
7Cheolsan Station
1Gwangmyeong Station
【 Photo: Gwangmyeong Cave 】
Cheolsan Station, Exit 2, approx. 25-min by taxi

* Closed until further notice due to COVID-19
Gwangmyeong Cave is more than just a sightseeing cave; it offers a wide variety of attractions and activities, including the Aqua World, Wine Cave, Light Space with artworks created using LED lighting, and a performance hall unique to this cave. The Wine Cave is a popular date spot, consisting of a wine cellar, wine restaurant, racks displaying plenty of vintage wines, and even wine tasting. Sampling wine with some light refreshments inside this cave will surely provide a special experience.
Gwangmyeong Traditional Market
7Gwangmyeongsageori Station
【 Photo: Gwangmyeong Traditional Market 】
Gwangmyeongsageori Station, Exit 10, approx. 3-min walk
Gwangmyeong Traditional Market provides shoppers a diverse assortment of items including clothing, furniture, and household goods, as well as dine at delicious eateries. Visitors will find no shortage of things to see in this market, which bustles with activity all day long. Many people also come in the evening hours to grab a drink with colleagues after work. Despite being a traditional market, it features modern amenities for a convenient shopping experience.
This page was last updated on September 25, 2020, and therefore information may differ from what is presented here.