Major Attractions on Gyeongui Jungang Line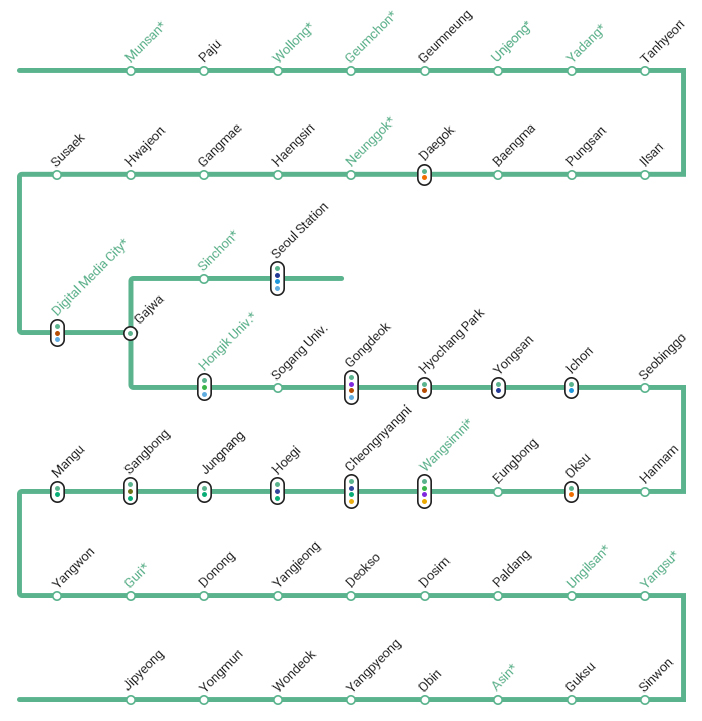 Imjingak Resort

GJMunsan

Soulone Botanical Garden

GJWollong

Heyri Art Valley

GJGeumchon

First Garden

GJUnjeong

Paju Book City

GJYadang

Haengjusanseong Fortress

GJNeunggok

GJHaengsin

Mapo Oil Tank Culture Park

GJDigital Media City

6ADigital Media City

6World Cup Stadium

6Mapo-gu Office

Yonsei-ro Street

GJ2Sinchon

2Ehwa Womans Univ.

Gyeongui Line Book Street

GJ2AHongik Univ.

GJSeogang Univ.

2Sinchon

Wangsimni Gopchang Street

GJ25BWangsimni

2Sangwangsimni

5Majang

Insect Ecology Museum

GJGuri

GJDonong

Namyangju Water Garden

GJUngilsan

GJYangsu

Dasan Heritage Site

GJUngilsan

GJPaldang

GJYangsu

Yangpyeong Dumulmeori

GJYangsu

GJUngilsan

Yangpyeong Mirae Aero Sports

GJAsin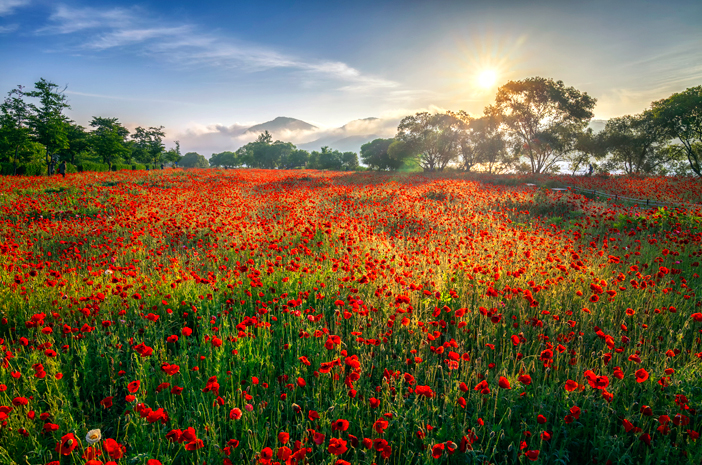 【 Photo: Namyangju Water Garden 】
Gyeongui Jungang Line is a combination of Gyeongui Line and Jungang Line, connecting Gyeonggi-do's northern and eastern cities while cutting through Seoul's central areas. The line includes stops at popular attractions like Sinchon Station and Hongik Univ. Station, making it an essential line for tourists traveling by subway. Take the subway on Gyeongui Jungang Line to tour some of Korea's most noteworthy tourist spots like Paju Imjingak Resort, Mapo Oil Tank Culture Park, Sinchon Yonsei-ro Street, Namyangju Water Garden, and Yangpyeong Dumulmeori.
GJMunsan Station
【 Photo: Pyeonghwa Nuri Park 】

【 Photo: Steam Locomotive at Jangdan Station 】
Munsan Station, Exit 2, approx. 10-min by taxi
Imjingak Resort is a security tour destination located at the northern end of Tongil-ro Street in Paju, approximately 7 kilometers away from the Military Demarcation Line that borders North Korea. The resort's main attractions are Pyeonghwa Nuri Park, discontinued steam locomotive, and Imjingak Observatory. Among these attractions, Pyeonghwa Nuri Park offers quite a sight with its large grass field and an open-air water stage for leisure and performance activities. The rusty steam locomotive parked at Jangdan Station on Gyeongui Line has been here since it was critically damaged by bomb attacks during the Korean War, a relic reminding Koreans of the painful division of the two countries. Unlike other security tour attractions, Imjingak Resort does not require any complicated permission procedure from visitors, and therefore is a popular tourist attraction among foreigners.
GJWollong Station
【 Photo: Soulone Botanical Garden (Credit: Soulone Botanical Garden) 】
Wollong Station, Exit 1, approx. 5-min walk
Soulone Botanical Garden is recommended to those who are seeking to quietly relax in a nature-friendly environment. Soulone Botanical Garden is an arboretum and a botanical park with a splendid exhibition of garden trees, rocks, and potted plants covering an area that spans approximately 13,223㎡. As the name suggests, which means "a garden full of laughter," the garden aims to comfort one's heart and mind through admiration of nature's beauty. The garden also has a greenhouse that displays and preserves diverse tropical plants and a café where visitors can enjoy a cup of coffee while enjoying the peaceful view through large glass windows.
GJGeumchon Station
【 Photo: Museum of Modern History of Korea 】

【 Photo: 93 Museum 】
Geumchon Station, Exit 2, approx. 20-min by taxi
Heyri Art Valley is a neighborhood of culture and art, comprising workshops, galleries, and museums owned by artists, musicians, writers, architects and others in the field of art. The village name "heyri" refers to old folk songs sung by farmers while at work. Popular attractions in Heyri Art Valley includes Museum of Modern History of Korea and 93 Museum.
First Garden
GJUnjeong Station
【 Photo: First Garden (Credit: First Garden) 】
Unjeong Station, Exit 4, approx. 10-min by taxi
First Garden is a grand multi-purpose cultural facility that opened in 2017. It has 23 attractive gardens, each decorated with a theme of its own. Toscana Plaza in particular exhibits an exotic atmosphere with its entrance inspired by Italian architecture and a garden fountain featuring a statue of Flora, the goddess of flowers and spring. After sundown, First Garden becomes even more gorgeous as colorful lights illuminate the whole garden. Convenient facilities, such as restaurants, a café, a wedding hall, and more, are also available.
GJYadang Station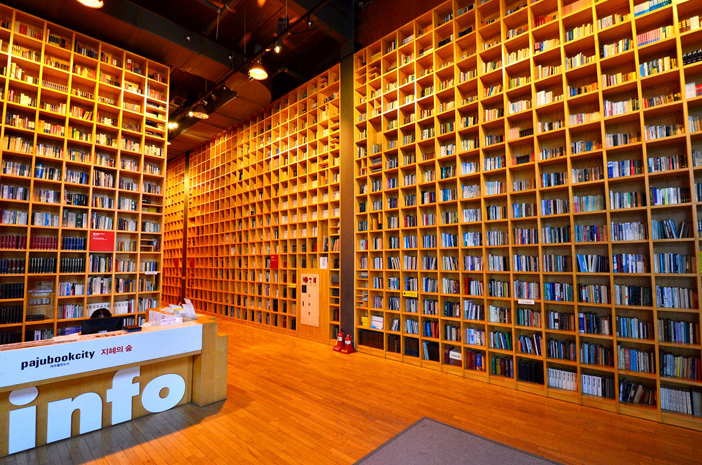 【 Photo: Forest of Wisdom (Credit: Paju Book City) 】
Yadang Station, Exit 1, approx. 20-min by taxi
Paju Book City is a publishing complex and the major hub of Korea's publishing and printing industry. From editing and designs to printing and distributions, all the process required to make and publish a book takes place within the complex. Main attractions include a library named Forest of Wisdom, galleries, and bookstores selling used books. The Forest of Wisdom in particular offers quite a sight to see with its collection of over 200,000 donated books. The library also appeared in popular Korean dramas like "Romance is a Bonus Book (2019)" and "What's Wrong with Secretary Kim? (2018)." After touring Paju Book City, visitors can enjoy shopping at Lotte Paju Premium Outlet located nearby.
GJNeunggok Station
GJHaengsin Station
【 Photo: Chungjangsa Temple
(Credit: Cultural Heritage Administration) 】
【 Photo: Great Victory of Haengju Memorial Hall
(Credit: Cultural Heritage Administration) 】
Neunggok Station, Exit 1, approx. 10-min by taxi
Haengjusanseong Fortress was one of the fortresses that acted as a battlefront during the Imjin War. The battle at Haenjusanseong Fortress was led by General Kwon Yul, who successfully defeated the Japanese attack. The fortress today serves as a home to a statue of General Kwon Yul and Chungjangsa Temple, a shrine founded in honor of the great general. Haengjusanseong Fortress lies between Deogyangsan Mountain and Hangang River, offering a scenic view of a lush forest and an unobstructed view of the river at the same time. Nearby is a memorial hall dedicated to the Great Victory of Heangju, displaying artifacts and materials related to the fortress and the battles held here.
GJ6ADigital Media City Station
6World Cup Stadium Station
6Mapo-gu Office Station
【 Photo: Mapo Oil Tank Culture Park (Credit: Seoul City Hall) 】
Digital Media City Station, Exit 6, approx. 20-min by bus (No. 7715)
Located across from the Seoul World Cup Stadium, Mapo Oil Tank Culture was originally Seoul's oil tank reserve base that was built after Korea's oil crisis in 1973. This once restricted area turned into a recreational culture space for the public in 2017 by reusing the reserve's facilities and resources as part of the city's urban regeneration project. At the center of the park is Munhwa Madang, a multi-purpose plaza, with oil tank buildings spreading out from the area. With a spacious outdoor plaza, a lecture hall, a performance hall, and an exhibition hall, the park serves as a venue for various community events.
GJ2Sinchon Station
2Ehwa Womans Univ. Station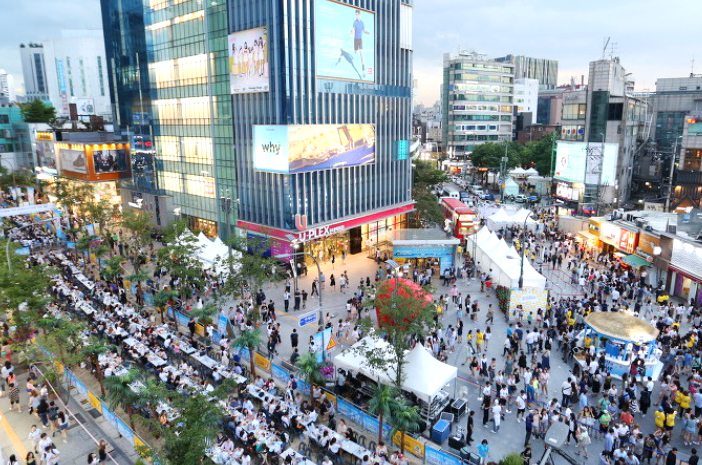 【 Photo: Yonsei-ro Transit Mall (Credit: Seodaemun-gu Office) 】
Sinchon Station, Exit 1, approx. 10-min walk
Yonsei-ro Street refers to the pedestrian street stretching out from the main entrance of Yonsei University. The road is lined with restaurants, boutiques, cosmetic shops, and other attractions that draw the attention of pedestrians. Buses are the only vehicles that has access to this street on weekdays, and the whole street turns into vehicle-free transit mall from 14:00 on Friday to 22:00 on Sunday. On weekends, diverse events and festivals, as well as entertaining street performances, take place along the street.
GJ2AHongik Univ. Station
GJSeogang Univ. Station
2Sinchon Station
【 Photo: Gyeongui Line Book Street (Credit: Seoul City Hall) 】
Hongik Unv. Station, Exit 6, approx. 5-min walk
Gyeongui Line Book Street is a cultural street dedicated to books and reading. Formed around a discontinued railroad, this 250-meter long street leads to an integrated cultural center and bookstores that display and sell books of diverse genres. The street also serves as a venue for book fairs and events to promote reading and literary culture.
Wangsimni Gopchang Street
GJ25BWangsimni Station
2Sangwangsimni Station
5Majang Station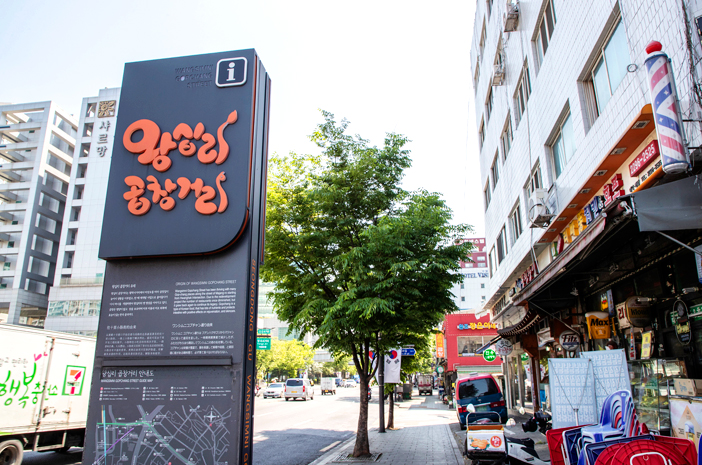 【 Photo: Wangsimni Gopchang Street 】
Wangsimni Station, Exit 11, approx. 10-min walk
Wangsimni Gopchang Street, located near Wangsimni Station, is lined with restaurants that specialize in gopchang (pork or beef intestine) menus. The street is frequented by those who have a taste for gopchang, and although the numbers of restaurants have decreased over the past few years, the neighborhood still lures both tourists and gastronomes with great food. With some having been in the business for over 20 years, the restaurants here are praised for offering diverse menu options as well as cooking savory and chewy gopchang.
Insect Ecology Museum
GJGuri Station
GJDonong Station
【 Photo: Insect Ecology Museum (Credit: Guri City Hall) 】

【 Photo: Guri Tower (Credit: Guri City Hall) 】
Guri Station, Exit 1, approx. 10-min by taxi
Insect Ecology Museum in Guri was first formed by reusing sewer water to provide an ideal environment for insects to live and reproduce. Today, the museum has several exhibition halls where visitors can observe diverse insects. The museum consists of a Butterfly Hall, Insect Hall, and Specimen Hall. Located nearby is Guri Tower, where visitors can observe the cityscape of Guri.
Namyangju Water Garden
GJUngilsan Station
GJYangsu Station
【 Photo: Namyangju Water Garden (Credit: Namyangju City Hall) 】
Ungilsan Station, Exit 1, approx. 10-min walk
Namyangju Water Garden is a beautiful wetland park formed along Bukhangang River. The park is ideal for picnics and pleasant strolls as it consists of an observation deck as well as several walking paths like Riverside Promenade, Water Aroma Path, Water Soul Path, and Water Light Path. The park is especially astounding in spring and fall when the field blooms with poppies and cosmos.
GJUngilsan Station
GJPaldang Station
GJYangsu Station
【 Photo: Yeoyudang 】

【 Photo: Dasan Eco-Park (Credit: Namyangju City Hall) 】
Ungilsan Station, Exit 2, approx. 10-min by taxi
Dasan Heritage Site is dedicated to Jeong Yak-yong, Korea's realist and reformer in the late Joseon dynasty. This historic site consists of Jeong Yak-yong's house, known as Yeoyudang, and Dasan Memorial Hall that has an archive of his works and related materials. Jeong Yak-yong Culture Festival takes place at the site twice a year, celebrating the late politician's works and achievements through cultural performances and events. After touring the site, visitors are recommended to stop by Dasan Ecological Park located nearby.
GJYangsu Station
GJUngilsan Station
【 Photo: Yangpyeong Dumulmeori 】
Yangsu Station, Exit 1, approx. 10-min by taxi
Dumulmeori is the name of the confluence where Bukhangang and Namhangang Rivers join. This tranquil ecological attraction is famous for its scenic beauty in early morning when the a fog sets upon the water surface, creating a mystic mood. It also has a 400-year-old zelkova tree and a yellow sailboat anchored in the middle of the river. All these features, along with the scenery of the mountains and the river, create a picturesque landscape, attracting photographers to Dumulmeori from nationwide. Another nature-friendly attraction near Dumulmeori is Semiwon.
Yangpyeong Mirae Aero Sports
GJAsin Station
【 Photo: Paragliding with Mirae Aero Sports (Credit: Mirae Aero Sports) 】
Asin Station, Exit 1, approx. 15-min by taxi
Yangpyeong Mirae Aero Sports offers a dynamic experience with paragliding. Visitors can sign up for a thrilling ride and take in the view of Yumyeongsan Mountain and beyond among the clouds. The instructors are all trained and certified, ensuring a safe and enjoyable ride. The basic paragliding activity takes approximately 15 minutes. Participants can also add options like taking photos and recording videos of their journey, and even maneuvering while paragliding.
This page was last updated on February 13, 2020, and therefore information may differ from what is presented here.