Major Attractions on Bundang Line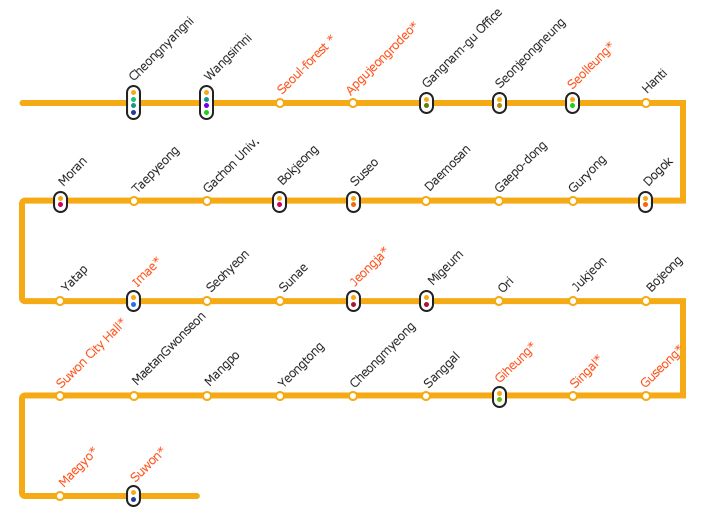 Seoul Forest

BSeoul-forest

2Ttukseom

GJEungbong

Apgujeong Rodeo Street

BApgujeongrodeo

3Apgujeong

7BGangnam-gu Office

Seolleung and Jeongneung

B2Seolleung

2Samseong

9BSeonjeongneung

9Samseong Jungang

Seongnam Arts Center

BGGImae

BYatap

Crom Street

BJeongja

BSunae

Tomb of Patriot Min Yeong-hwan

BGuseong

BSingal

Yonginhyanggyo Confucian School

BGuseong

BSingal

NJP Art Center

BEGiheung

BSanggal

Gyeonggi Provincial Museum

BSanggal

BEGiheung

Korean Folk Village

BSanggal

Gyeonggi Arts Center

BSuwon City Hall

BMaetanGwonseon

KBS Suwon Center

BSuwon City Hall

Hyowon Park

BSuwon City Hall

BMaetanGwonseon

Paldalmun Gate

BMaegyo

1BSuwon

Hwaseong Haenggung Palace

BMaegyo

1BSuwon

Suwon Chicken Street

BMaegyo

1BSuwon

Suwon Hwaseong Fortress

BSuwon

1Hwaseo
Metropolitan Area Tour by Bundang Line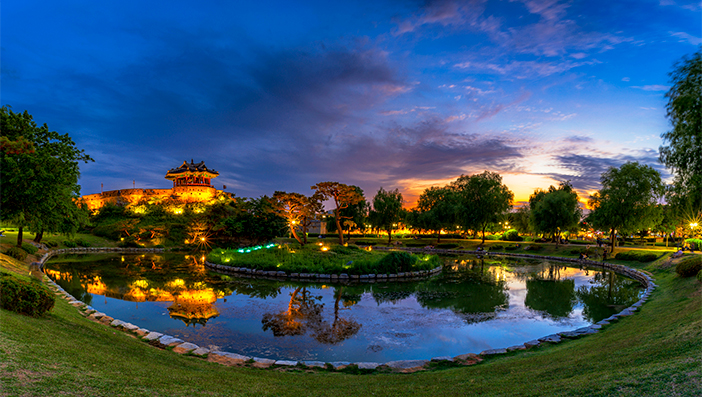 【 Photo: Evening at Yongyeon Pond and Banghwasuryujeong Pavilion 】
Bundang Line connects Cheongnyangni Station in Seoul and Suwon Station in Gyeonggi-do, passing by major tourist attractions in Gyeonggi-do and Seoul's Gangnam area along the way. Notable attractions in Gangnam include Seoul Forest, Apgujeong Rodeo Street, and Seolleung and Jeongneung tombs; while Suwon has significant historical attractions like Hwaseong Fortress and Haseonghaenggung Palace. In particular, Suwon Hwaseong Fortress is one of the most visited attractions by both domestic and international visitors for its historical importance and architectural beauty that placed them in the list of UNESCO's World Heritage in 1997.
BSeoul-forest Station 2Ttukseom Station GJEungbong Station
【 Photo: Seoul Forest (Left credit: Seoul Tourism Organization) 】
Seoul-forest Station, Exit 3, approx. 15-min walk
Seoul Forest brings nature into the city, and its location along Hangang River makes the park a great recreational space for entertainment and cultural activities for the city dwellers. Seoul Forest is divided into four unique sections of Cultural Arts Park, Experience Learning Center, Ecological Park, and Ecological Wetland to meet the interests of diverse visitors. Main attractions of the forest include the Insect Garden, Butterfly Garden, and a splash fountain.
BApgujeongrodeo Station 3Apgujeong Station 7BGangnam-gu Office Station
【 Photo: Apgujeong Rodeo Street 】
Apgujeongrodeo Station, Exit 5, approx. 3-min walk
The shopping district where Korea's trends start, Apgujeong Rodeo Street was formed when luxury brand boutiques began to open along the street. As one can guess, the street was named in reference to the Rodeo Drive in Beverly Hills, California, with aims to mirror the drive's reputation of high-end fashion street in the 1980s. The street is lined with shops selling luxury goods, select items, and cosmetics. Across from the street is Galleria Department Store with its fancy exterior, where visitors can find brand collections.
B2Seolleung Station 2Samseong Station 9BSeonjeongneung Station 9Samseong Jungang Station
【 Photo: Seolleung and Jeongneung in Seoul 】
Seolleung Station, Exit 8, approx. 15-min walk
Seolleung and Jeongneung are royal tombs of the kings and queen of the Joseon dynasty. Despite being a grave site, the area has a peaceful ambience that sets the mood for a pleasant stroll. Designated as UNESCO World Heritage in 2009, the area is surrounded by a lush pine forest and equipped with well-managed walking paths. Seolleung comprises two burial mounds each placed on a hill of its own, one for King Seongjong and the other for his consort Queen Jeonghyeon, separated by a jeongjagak (T-shaped wooden shrine). Walk along the main path and the first tomb that comes in sight is that of King Seongjeong, followed by Queen Joenghyeon's tomb within a walking distance. Located on the opposite side of Seolleung is Jeongneung, the royal tomb of King Jungjong, the 11th king of the Joseon dynasty and the son King Seongjong.
BGGImae Station BYatap Station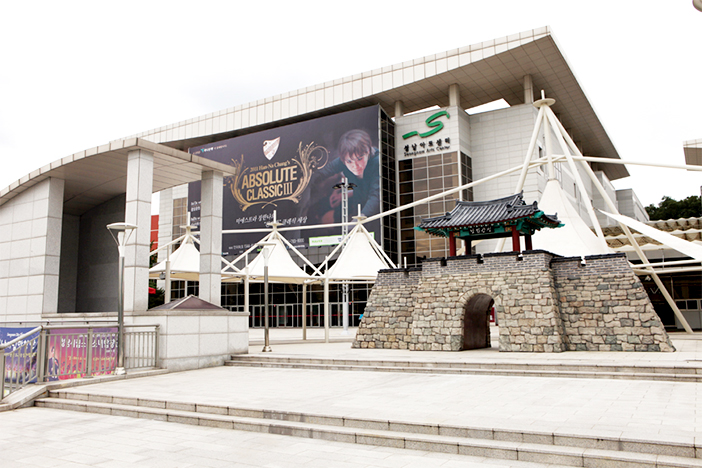 【 Photo: Seongnam Arts Center (Credit: Seongnam City Hall) 】
Imae Station, Exit 2, approx. 15-min walk
Seongnam Arts Center offers diverse cultural entertainment, mainly focusing on performance arts and art exhibitions. The art center has an opera house with 1,804 seats that holds large-scale operas, concerts, musicals, and ballet performances as well as an open-air performance stage and exhibition plaza. Other auditoriums include the two-story concert hall and a small ensemble theater hall with a T-shaped stage.
Crom Street
BJeongja Station BSunae Station
【 Photo: Crom Street (Credit: Seongnam City Hall) 】
Jeongja Station, Exit 1, approx. 15-min by bus (Maeul 109-1)
Crom Street is a memorial street dedicated to the late Korean singer and songwriter Shin Hae-chul. Referred to as "Crom" and "the Devil" by fans, Shin Hae-chul is considered one of the most iconic figures in Korea's popular music industry and respected by music fans nationwide for his one of a kind music philosophy and style even to this day. The memorial street can be found along the music studio building used by Shin Hae-chul before his passing. The street is divided into sections that display memorial plaques, musical note blocks, and a statue of the late musician. Visitors can also enter his music studio, where it now serves as a memorial space displaying the musician's personal belongings and albums, as well as notes left by fans who remember and miss him.
Tomb of Patriot Min Yeong-hwan
BGuseong Station BSingal Station
【 Photo: Tomb of Patriot Min Yeong-hwan 】
Guseong Station, Exit 3, approx. 15-min by bus (Maeul 21-2, 26, 26-2, 31, 33, 34-2)
The Tomb of Min Yeong-hwan, a government official during the Joseon dynasty, is registered as Gyeonggi-do Memorial Monument No. 18 in honor of his patriotic deeds and service during his lifetime. Min Yeong-hwan had been promoted to the highest ranking official within his tier, then was later appointed as a special diplomat to represent Korea during the coronation of Russia's tsar in 1896. The scenery of an old burial mound against the backdrop of modern-day apartment buildings seen from the hilltop behind the grave is an unusual sight even in Korea. The late official's tombstone can be found near the entrance, engraved with an inscription handwritten by Syngman Rhee, Korea's first president.
Yonginhyanggyo Confucian School
BGuseong Station BSingal Station
【 Photo: Yonginhyanggyo Confucian School (Credit: Cultural Heritage Administration) 】
Guseong Station, Exit 3, approx. 15-min by bus (Maeul 31, 33, 34-2)
Yonginhyanggyo Confucian School was founded in 1400 as a part of the government's regional education reform plan and to house the ancestral tablets of respected Confucian philosophers. This school was designated as Gyeonggi-do Cultural Heritage No. 188 for excellent preservation of customs and culture of mid-Joseon's Confucianism. It still carries on the Confucian traditions even to this day by holding ritual ceremonies and serving as an education center, providing lessons on traditional etiquette, Chinese characters, brush calligraphy, and poem recitals.
BEGiheung Station BSanggal Station
【 Photo: Nam June Paik Art Center 】
Giheung Station, Exit 5, approx. 10-min by bus (Maeul 51)
NJP Art Center exhibits collections of works by the late contemporary artist Paik Nam-june. Paik Nam-june was recognized worldwide for his video art, which can be observed at this art museum founded in his honor. The building's exterior is designed with mirror tiles, making the building seem like an artwork itself. The building comprises of exhibition halls, video collection room, and multi-purpose center that focus on works and films related to the late artist.
BSanggal Station BEGiheung Station
【 Photo:Gyeonggi Provincial Museum 】
Sanggal Station, Exit 4, approx. 15-min walk
Gyeonggi Provincial Museum is dedicated to the research of Gyeonggi-do's history and traditional culture and promoting Suwon Hwaseong Fortress. The museum is made up of three floors above ground with one basement floor and has seven exhibition halls along with a collection storage room, research room, and lecture room. The museum gives an overview of Korea's history from the prehistoric age to the modern era through various artifacts, including the National Treasure No. 256 Avatamsaka Sutra (The Flower Garland Sutra) and Treasure No. 1052 Cheontae sagyoui (Essentials of the Four Stages of Teaching in Tientai).
BSanggal Station
【 Photo: Korean Folk Village 】
Sanggal Station, Exit 2, approx. 10-min by taxi
Korean Folk Village is Korea's largest theme park that is designed based on traditional Korean villages and culture. This theme park has reproduced old traditional villages and lifestyles of Korea in the past, including that of Hamgyeong-do in the north and Jeju Island in the south. Many aspects of the architecture and household goods have been replicated in detail to make visitors feel as if they have traveled back in time to Korea's Joseon period. In addition, several fun interactive programs and themed activities are prepared year round to entertain visitors.
Gyeonggi Arts Center
BSuwon City Hall Station BMaetanGwonseon Station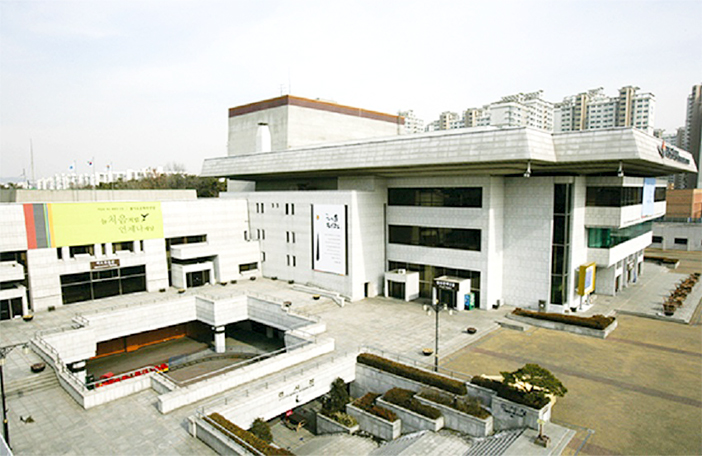 【 Photo: Gyeonggi Arts Center (Credit: Suwon City Hall) 】
Suwon City Hall Station, Exit 10, approx. 10-min walk
Gyeonggi Arts Center was founded to appreciate and enhance Gyeonggi-do's cultural arts as well as offer diverse cultural arts programs to the community. The center's main facilities consist of a grand theater, small theater, outdoor theater, and exhibition halls. As Gyeonggi-do's symbol of cultural arts, Gyeonggi Arts Center frequently holds performances, exhibitions, musicals, and concerts for the public to enjoy.
KBS Suwon Center
BSuwon City Hall Station
【 Photo: KBS Suwon Drama Production Center
(Credit: Suwon City Hall) 】
【 Photo: KBS Suwon Art Hall
(Credit: Suwon City Hall) 】
Suwon City Hall, Exit 8, approx. 20-min walk
KBS Suwon Center is Korea Broadcasting Company's media production building complex made up of a production center, television studios, and indoor and outdoor filming studios. Other related facilities such as editing, make-up, costume, and rehearsal rooms are also available so that filming and production of dramas, films, and commercials can all take place within the complex. KBS Suwon Center offers guided tours to those who are interested in behind the scenes of filming and production. Advance reservation is required for the tour; take note the reservations and tour are only available in Korean.
Hyowon Park
BSuwon City Hall Station BMaetanGwonseon Station
【 Photo: Hyowon Park (Credit: Suwon City Hall) 】

【 Photo: Wolhwawon Garden 】
Suwon City Hall Station, exit 9, approx. 15-min walk
Hyowon Park is designed with a theme of filial piety, or Confucian teaching of one's act of respect towards their parents. Follow the park's main walking path and statues expressing filial piety can be found along the way. Besides the statues, Hyowon Park also has Jeju Street and Wolhwawon Garden. Jeju Street, as the name implies, is designed to focus on Jeju Island's iconic symbols like dol hareubang (grandfather stone statue) and haenyeo (female divers), while Wolhwawon Garden is designed with a motif of traditional Chinese garden.
BMaegyo Station 1BSuwon Station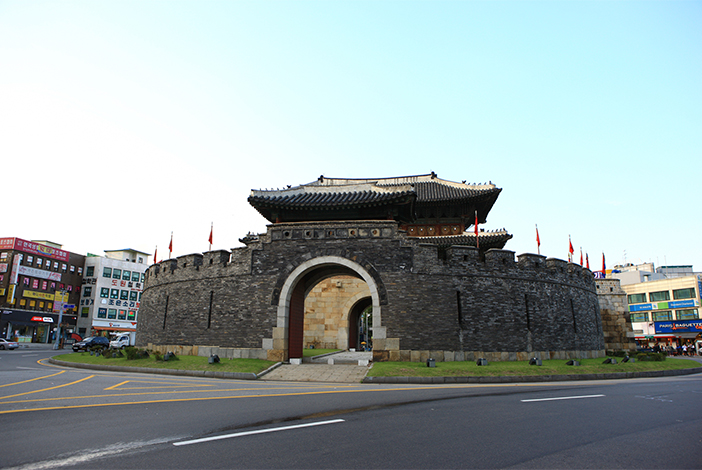 【 Photo: Paldalmun Gate 】
Maegyo Station, Exit 7, approx. 10-min by bus (No. 25, 25-2, 25-5, 64, 112)
Paldalmun Gate, Treasure No. 402, is the south gate of Suwon Hwaseong Fortress that was built in 1794. Paldalmun Gate's name means "leads to all directions," as it was the main gateway into the city. The outer section of the gate is attached to a crescent-shaped stonewall called ongseong that was built to protect the gate. Paldalmun Gate's ongseong is considered unique for placing its entrance at the center of the wall's arch, unlike most ongseong walls that have their entrance in the corner.
BMaegyo Station 1BSuwon Station
【 Photo: Hwaseong Haenggung Palace 】
Maegyo Station, Exit 7, approx. 15-min by bus (No. 25, 25-2, 25-5, 112)
A haenggung palace refers to a temporary palace outside the capital city where kings would reside for a vacation, stop by during long trips, or take shelter during times of war. Hwaseong Haenggung Palace was built for King Jeongjo to stop by and take shelter during his trips to his father's tomb, Hyeongryungwon. Hwaseong Haeggung Palace is recognized to be one of the best temporary palaces among those during the Joseon period for its grand design and purpose.
Suwon Chicken Street
BMaegyo Station 1BSuwon Station
【 Photo: Suwon Chicken Street 】
Maegyo Station, Exit 7, approx. 10-min by bus (No. 25, 25-2, 25-5, 64)
Near Paldalmun Gate is an alleyway clustered with small and large fried chicken restaurants known as the Suwon Chicken Street. The history of this street dates back to the 1970s when a restaurant made a breakthrough by selling fried chicken, which then led to the spread of similar restaurants opening up within the area. The term "Suwon Wang Galbi (premium ribs) Chicken," a menu that originated from this street, became a brand of its own after being heavily featured in the major hit Korean film "Extreme Job (2019)," attracting more visitors to the area.
BSuwon Station 1Hwaseo Station
【 Photo: Suwon Hwaseong Fortress 】
Suwon Station, Exit 7, approx. 20-min by bus (No. 1007, 2007, 7770)
Suwon Hwaseong Fortress is nestled in the center of Suwon, and it was built to protect the city from outside invaders under King Jeongjo's rule during the Joseon dynasty. These protective walls proved to be highly effective and were recognized by the UNESCO as a world heritage in 1997. The fortress is well-preserved to this day, and has a nice walking path that takes visitors to significant attractions within the fortress walls, namely Hwaseomun Gate, Janganmun Gate, and Banghwasuryujeong Pavilion. The Banghwasuryujeong Pavilion is especially praised as a great viewpoint for taking in the scenery of Suwon Hwaseong Fortress. Suwon Hwaseong Fortress also operates a Hwaseong Fortress Tourist Trolley for passengers to save time while enjoying the fortress tour conveniently.
This page was last updated on January 16, 2020, and therefore information may differ from what is presented here.