As the mecca of Korean performing arts and a popular date spot, Daehakro boasts a bunch of amazing restaurants and cafés that fit the taste of the young visitors filling its streets each day. Here are some restaurants and cafés where you can dine with your date or go after a show.
Restaurants
Here, Every Day is Halloween!

Witch's Kitchen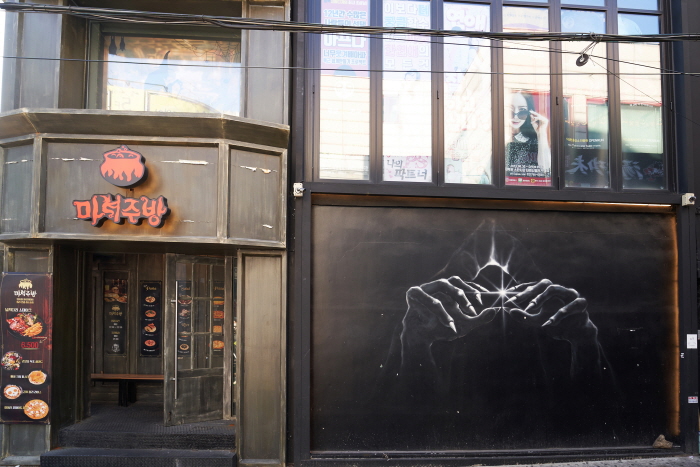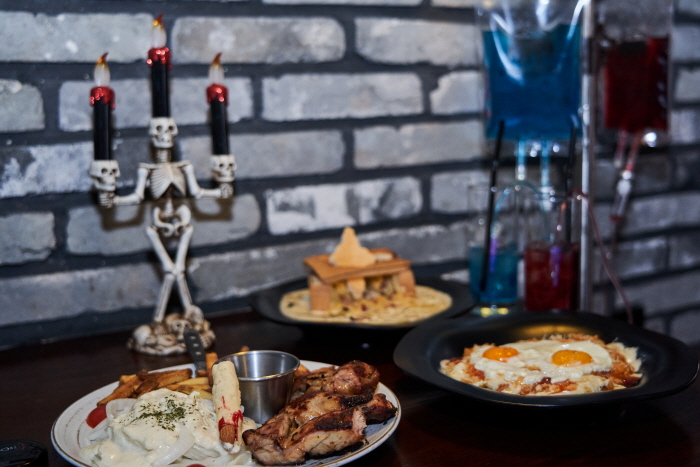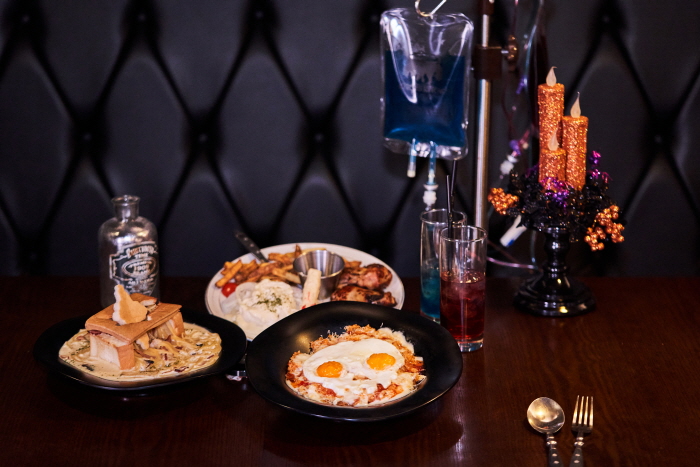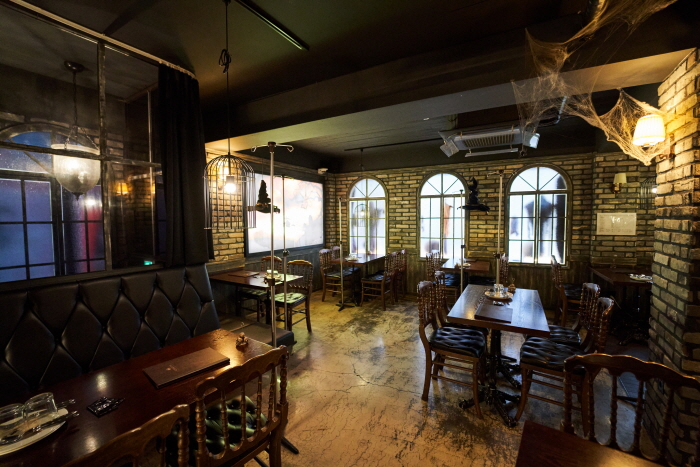 The witch welcomes you to her kitchen. Open the door to see the witch's eerie collections: magic chests, crystal balls, and skeletons. With this view, you begin to wonder what kind of dishes the witch will serve. Just like its motto, "Play Deliciously, Grab a Bite of Fun," Witch's Kitchen gives you special experience with a unique interior and witty menu items. Among them, The thigh steak is made of Brazilian chicken and served with fried potatoes topped with a "witch's severed finger." If you're into spicy foods, you should check out kimchi chili rice. Pop the yolk on the skull-shaped fried egg, and mix it perfectly with the sweet and spicy chili sauce. Feeling thirsty? Grab a mug of "Witch's Blood" (actually made with hibiscus) to quench your thirst.
- Tips for Travelers: On weekdays, if your total order is KRW 30,000 or higher, the restaurant gives out two tickets to a Daehakro show open at the time. For your kimchi chili rice, you can adjust the spiciness to your taste, so ask the server in advance!
Address: 2F, 18, Daemyeong-gil, Jongno-gu, Seoul
Main Menu: Thigh Steak – KRW 6,500; Pane Cream Pasta – KRW 13,500; Kimchi Chili Rice – KRW 11,500
Operating Hours: 12:00–22:30
Tel. No: +82-507-1339-1116
Fall in Love with the Rich Spiciness

Memilhyang Geujip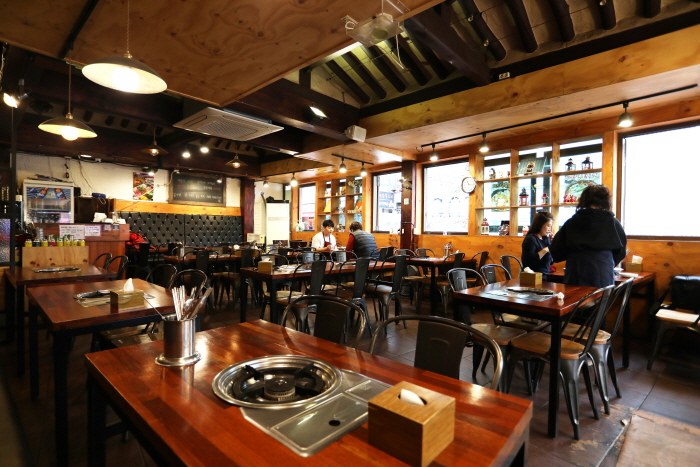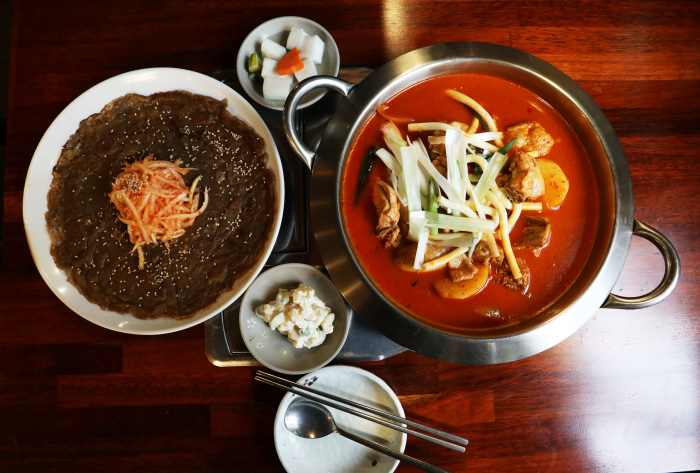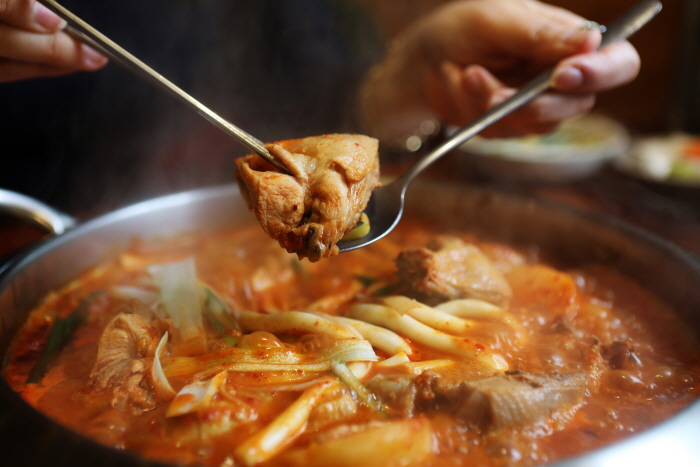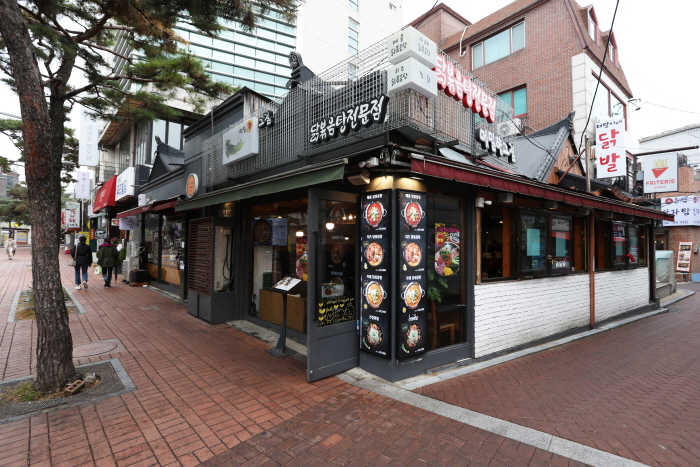 Koreans enjoy various chicken dishes, including the popular dakbokkeumtang or braised chicken. This delicious dish is prepared by boiling a chicken with spicy sauce and assorted vegetables. Memilhyang Geujip is one of the oldest braised chicken restaurants at Daehakro. The restaurant's braised chicken is famous for its large portion and rich soup that adds to the dish's savory flavor. The stew is already good to eat as soon as it starts to boil, but we recommend letting it cook for around 15 min before scooping a spoonful. One sip of the thick soup will have you unexpectedly exclaiming in enjoyment. As for the potatoes, you can either eat them whole or, even better, squash them into tiny pieces and let them mix with the soup. If your lips are on fire, take a bite of the best remedy, the restaurant's buckwheat pancake. This is served with radish salad on top, which you can wrap using a slice of the pancake underneath. Order a bowl of braised chicken, and you can get a plate of buckwheat pancake for only KRW 2,000.
- Tips for Travelers: You can adjust the spiciness of the main dish and ask for more soup. Before you finish the main dish, don't forget to order fried rice cooked with the remaining soup.
Address: 18, Daehak-ro 11-gil, Jongno-gu, Seoul
Main Menu: Spicy Braised Chicken (for two) – KRW 20,000; Braised Chicken with Cheese – KRW 24,000; Buckwheat Pancake – KRW 5,000
Operating Hours: 11:00–23:00
Tel. No: +82-2-745-3681
Enjoy Fresh Seafood at Affordable Prices

Eosachultto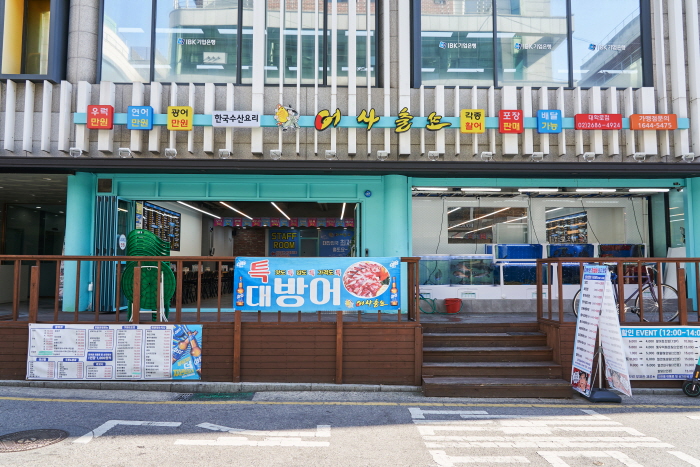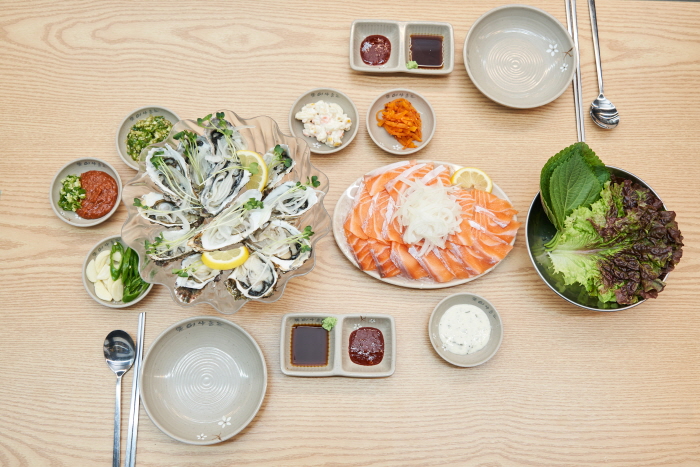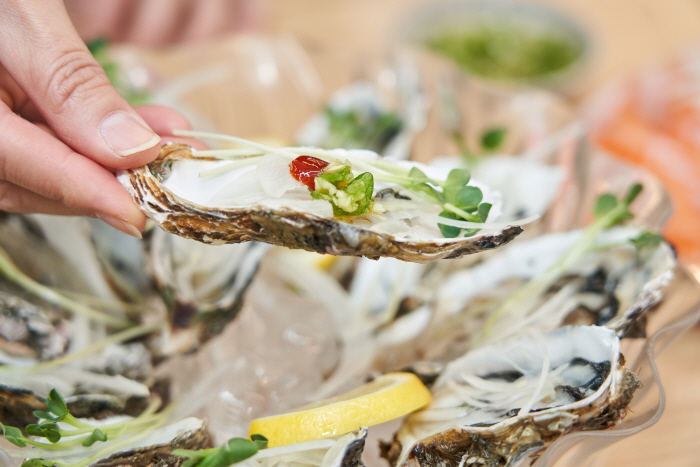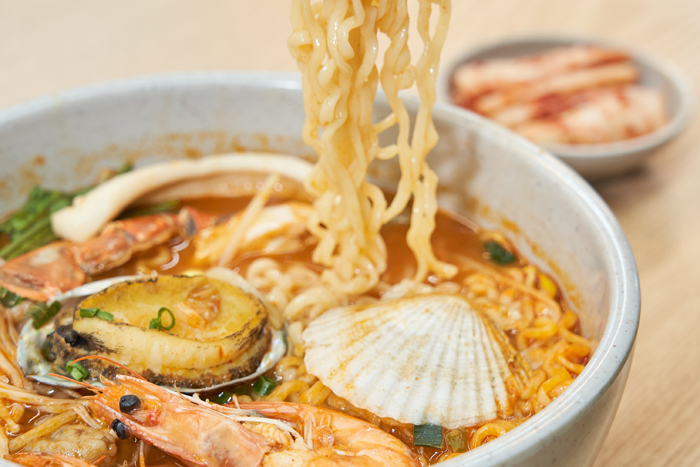 Eosachultto offers fresh raw seafood at affordable prices. The low-price policy is implemented with the actors that give life to Daehakro in mind. The seafood is astonishingly fresh. In fact, the restaurant has fresh fish delivered directly from its suppliers six times a week. You can see how fresh they are at the water tank outside the restaurant. One of the restaurant's specialties is abalone and seafood ramen, which offers a luxurious look and taste that you don't usually associate with a ramen dish. The dish has a wide array of seafood, including shrimps, scallops, squids, sea squirts, and pieces of blue crab. At Eosachultto, you can enjoy fresh oysters at prices that are unthinkable outside of Korea. These shellfish are served with red chili paste with vinegar, or soy sauce with sesame oil, chili pepper, and garlic. Enjoy!
- Tips for Travelers: From 12:00 to 14:00, pay an extra KRW 1,000 to access the self-service bar with assorted side dishes and get unlimited ramen and rice refills.
Address: 1F, 101, Dongsung-gil, Jongno-gu, Seoul
Main Menu: Fresh Oysters – KRW 10,000; Salmon (small) – KRW 10,000; Abalone and Seafood Ramen – KRW 8,000; Fish Roe Rice (lunch only) – KRW 4,000; Fresh Sushi (12 pieces) – KRW 8,000
Operating Hours: 12:00–24:00
Tel. No: +82-507-1351-4924
Cafés
A small café in a traditional house where you can watch furry feline friends!

Seohwa Coffee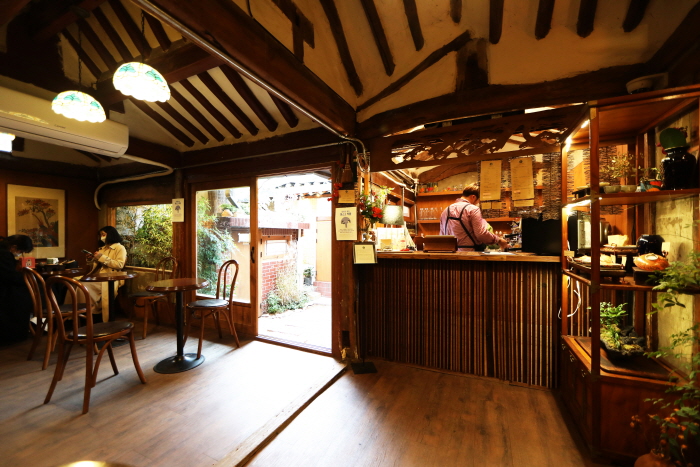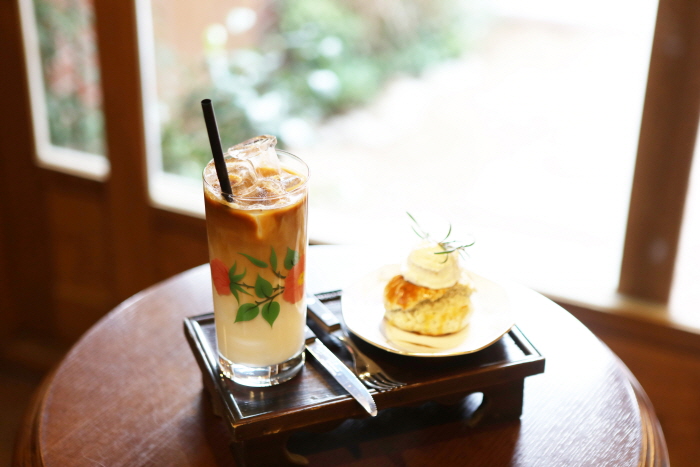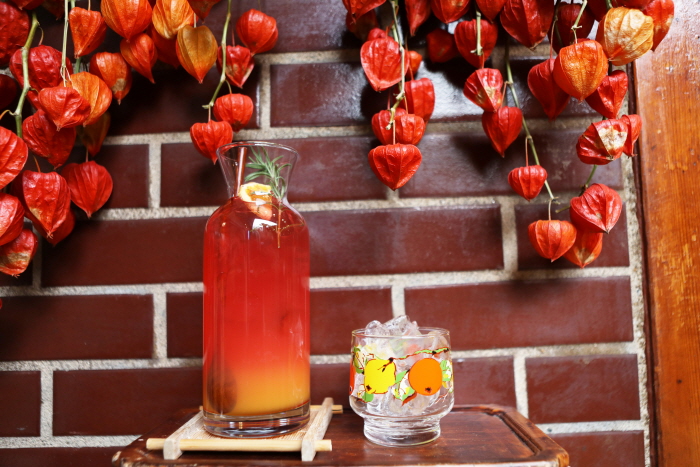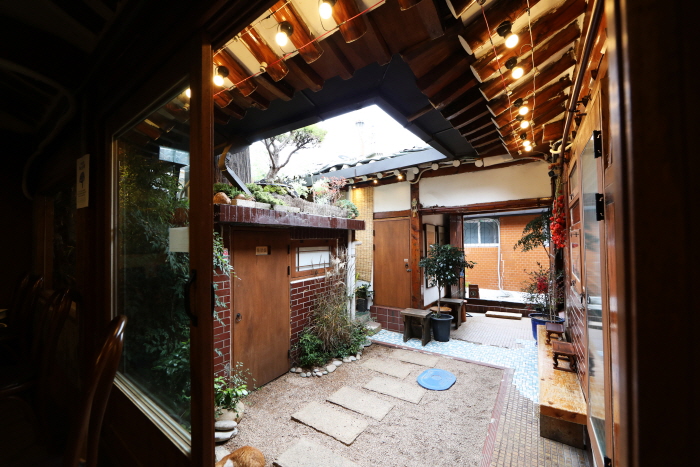 If the main street begins to look familiar after a few visits, venture into the small alleyways of Daehakro and look for small cafés. You may be surprised to find the numerous coffee shops lining these nooks and crannies. One of them is Seohwa Coffee, which was opened in a traditional Korean house or hanok. This café perfectly preserves the feel of a traditional house from the 1970s. The old, framed photos, clocks, dried ground cherries, and windows create a memorable atmosphere. The café uses its own blends, called "Sonamu" (pine tree) and "Mugunghwa" (rose of Sharon). In particular, Sonamu has a nutty aroma, whereas Mugunghwa is heavier on the acidic flavor. You can find bean samples on the counter, so you can take a whiff before making your choice. For the food, scones are served with either cream or jam, and cream is particularly recommended because it adds softness to the taste. As you sit at your table, you can also look out the windows to watch local cats roaming outside.
- Tips for Travelers: If you like quince cheese or Turkish delight, try yanggaeng, a traditional Korean dessert. This dessert goes well with a cup of coffee.
Address: 1F, 8 Daehak-ro 9ga-gil, Jongno-gu, Seoul
Main Menu: Seohwa Coffee – KRW 4,500; Ilmol – KRW 6,000; Earl Grey Scone – KRW 3,500; Chestnut Yanggaeng – KRW 3,000; Green Tea Pound Cake – KRW 5,000
Operating Hours: 11:00–22:00, closed on the fourth Monday of every month
Tel. No: +82-70-7543-9201
Experience the best strawberry cake in town

Snob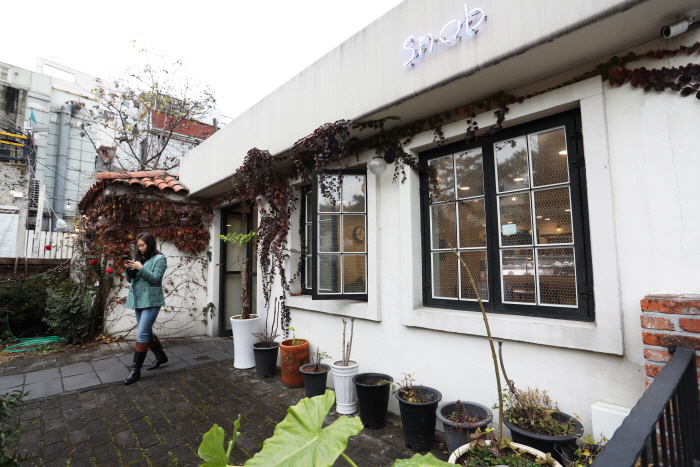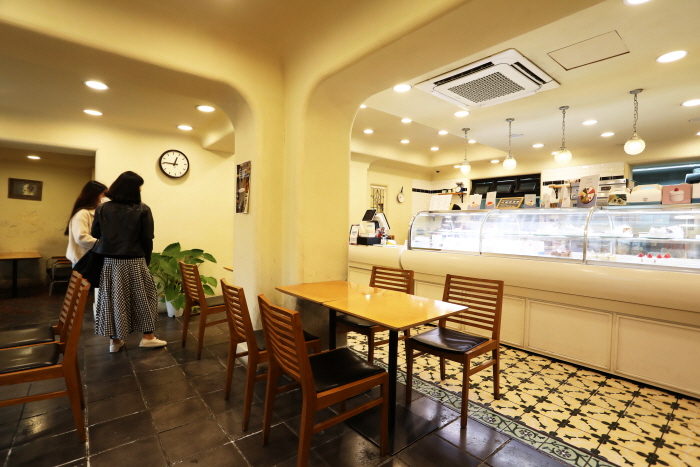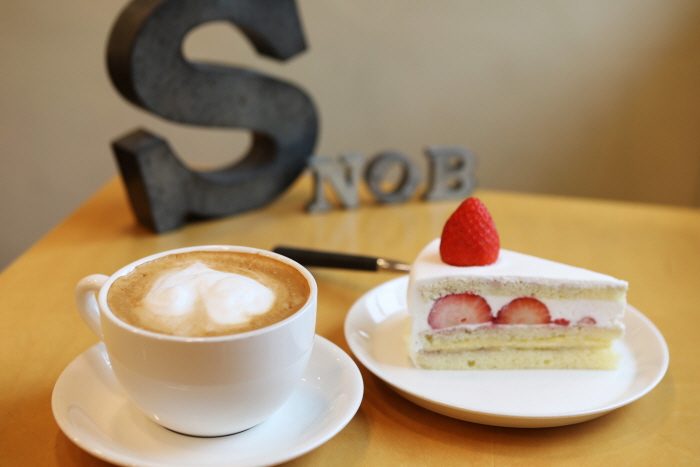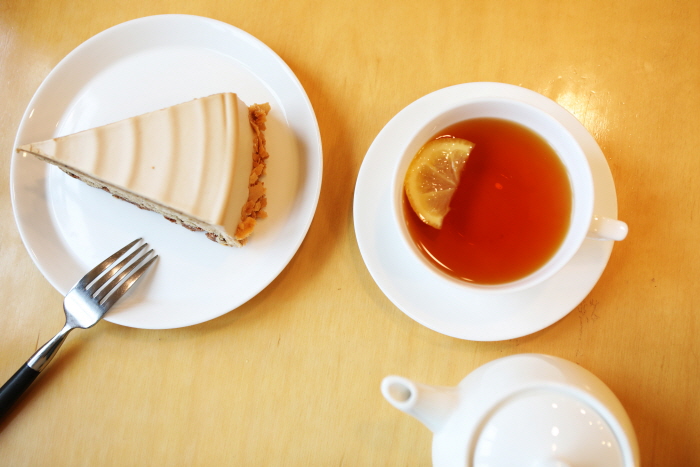 Walk into the white house that looks like it came straight out of a fairy tale, and let the sweet aroma of cakes surround you. You can almost taste the sweetness on your tongue just by looking at the 10 or so cakes made by the place's three pastry chefs. This café opened in a remodeled house, which is partitioned into various sections. Find a table further into the house if you want a quiet place to talk. The café's signature menu item is the fraise cake. The whipped cream, sponge cake base, custard cream, and fresh strawberries come together as a pleasantly sweet ensemble, making it the ideal dessert after a heavy meal. Also popular is the earl grey cake that uses chocolate cereal mix as the base. Besides these delectable desserts, it also offers a wide selection of coffees, teas, and herbal teas.
- Tips for Travelers: : If you want to purchase a whole cake, order one to three days in advance.
Address: 12, Daehak-ro 11-gil, Jongno-gu, Seoul
Main Menu: Fraise Cake – KRW 6,800; Earl Grey Cake – KRW 6,000; Mont Blanc – KRW 6,500; Americano – KRW 4,000; Chamomile – KRW 4,500; Uba – KRW 5,000
Operating Hours: 11:00–23:00, closed on Chuseok and New Year's holidays
Tel. No: +82-2-747-5770
A hot spot on Instagram filled with romantic vibes

Hey, Coffee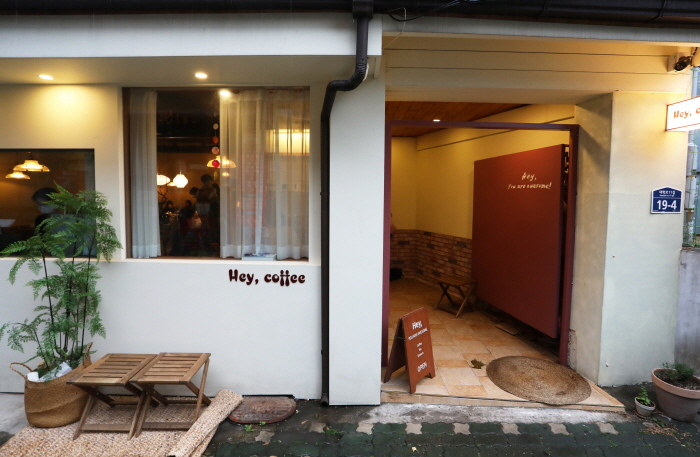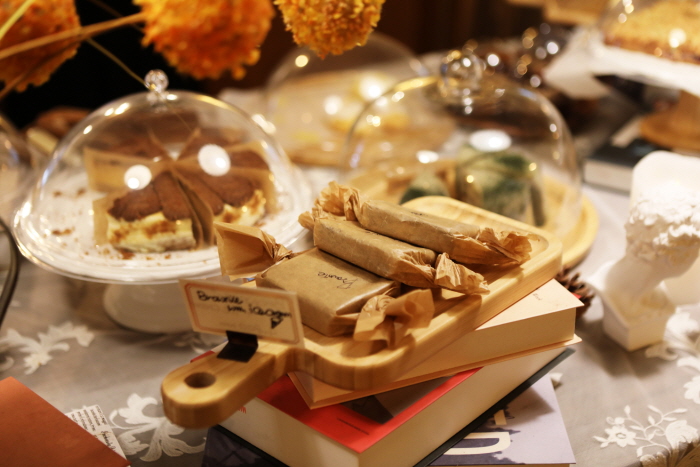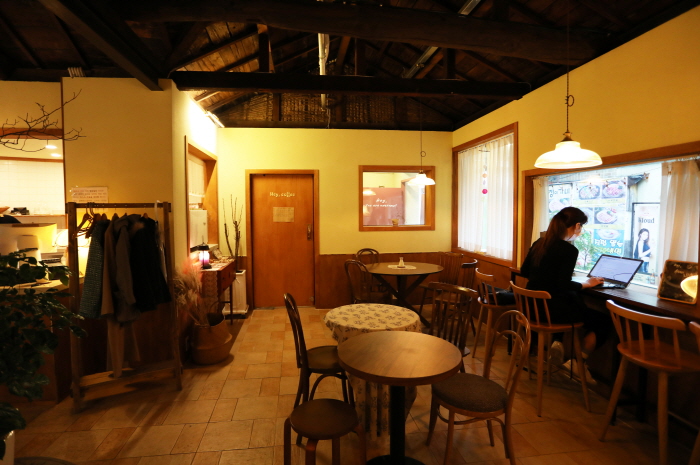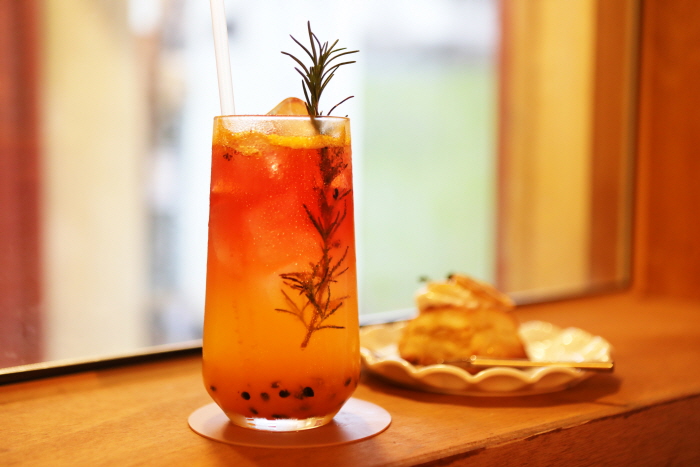 "Hey, Coffee" is a cute coffeehouse with a warm atmosphere illuminated by yellow lights. This place has numerous photo spots, including the chair at the front of the café, the mirror inside the café, the square window, and tables with romantic decorations. These notable spots became the backdrop of numerous Instagram posts, making them popular on the app. However, its charms do not end there because the café's cakes and scones are gone as soon as they are put on the shelves. Hey, Coffee's most prominent feature is the dessert table at the center. Pick a cake to put on a dish, and you'll feel like a guest at a prestigious party. "Hey, Coffee" is also the name of the café's signature menu item, a butterscotch cream latte that offers the taste of cream and butterscotch candy. You can also get a cup of mugwort latte, if you are in the mood for something bittersweet.
- Tips for Travelers: As mentioned, this place is popular on Instagram. If you visit in the late evening, you'll likely find all the desserts sold out, except for a few.
Address: 19-4, Daehak-ro 11-gil, Jongno-gu, Seoul
Main Menu: Corn Cream Cheesecake – KRW 6,000; Citrus Scone – KRW 4,000; Hey, Coffee (Einspänner) – KRW 6,000; House-made Royal Milk Tea – KRW 6,500; Passion Fruit Sparkling (iced) – KRW 6,000
Operating Hours: 12:00–22:00, closed on Mondays
Tel. No: +82-70-8811-0209