Electricity & Communications
Electricity and Voltage
The standard voltage in Korea is 220 volts (and 60 Hertz, or cycles), and the outlet has two round holes, which is the same type used in France, Germany, Greece, Turkey, and many other countries. If you do not have a multi-voltage travel adapter, you can borrow one from your hotel's front desk for free of charge (however, some establishment may request a minimal fee as deposit, covering for possible loss). If you would like to buy one in Korea, you can do so at any of the retail stores, major duty-free shops, Yongsan Electronics Market, convenience stores or even stationery stores.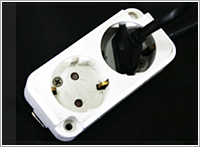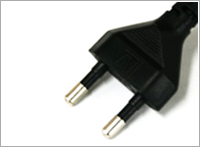 Public Phones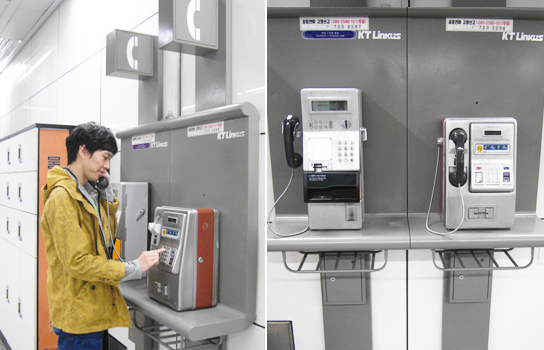 Photo: Public phone booth installed at Seoul's subway station
As the distribution of cell phones, smart phones and related mobile gears increases in Korea, public phone booths are rarely seen on streets and public facilities today. However, there are still some public phone booths at popular sites, bus stops, subway stations and train stations. Korean public phones generally provide local and international call services alike with payment by coins or phone cards. Users can choose a preferred volume level among three-level option by pressing the speaker-shaped button on the phone. If the user presses the "L" button, the LCD screen offers English, Japanese and Korean language services as well.

Telephone cards can usually be purchased at convenience stands or stores near the telephone booths, and the remaining balance cannot be exchanged for cash. Most of these cards are valid for a period up to three years; however, some may have different validity period so make sure to double check the information before making a purchase.

The cards are available in 3,000, 5,000 and 10,000 won denominators and they are decorated with interesting drawings or memorable tourist sites of Korea, therefore can also be kept as souvenirs. T-money and Mybi transportation cards or debit cards equipped with the aforementioned services are also applicable for use at most of the public phone booths, but the payment method for every phone booth may differ. (For exact details, please refer to the instructions written at the booth.)
Domestic Long-distance Calls (Area Codes)

Metropolitan Cities

Seoul (02), Incheon (032), Gwangju (062), Busan (051), Daegu (053), Daejeon (042), Ulsan (052), Sejong (044)

Provinces

Gyeonggi-do (031), Gangwon-do (033), Chungcheongbuk-do (043), Chungcheongnam-do (041), Jeollabuk-do (063), Jeollanam-do (061), Gyeongsangbuk-do (054), Gyeongsangnam-do (055), Jeju-do (064)

International Calls

① How to make an international call to Korea
When you make a phone call to Korea from abroad, first dial 82 (country code for Korea), then the area code (except for the first number 0). Finally, dial the phone number you wish to call.
For example: Calling Seoul (area code 02) with 777-7777 as the phone number, dial +82-2-777-7777.
② How to make an international call from Korea
* First, dial any of the following international call company numbers, and then the country code, area code and finally the number you are calling.
* International Phone Call Carriers: 001, 002, 008, 00365, 00700 and more.
* Pre-paid Phone Cards: Pre-paid phone cards are available at convenience stores, major drug store chains, bookstores and newspaper stands.
Mobile Phone Rentals and Roaming Service
As soon as visitors arrive at Korea's major airports, including Incheon, Gimpo, Gimhae and Jeju international airports, you can proceed to 'roaming center' desks and get your mobile devices connected immediately with local network service provider after a simple registration. In addition to roaming services, SIM Card purchase, WiFi egg rentals and even smart phone or other mobile gears are available. Be noted, however, you will be required to make reservation for the smart phone rentals at least 3 days in advance of your arrival date. Reservation is accepted at the websites and more information about fees, location of roaming desks and other details are found from the websites listed below.
Korea's representative roaming service carriers

Kt Roaming Center
☞ Website: roaming.kt.com (Korean, English, Japanese, Chinese)
SK TELECOM Roaming Center
☞ Website: www.sktroaming.com (Korean, English, Japanese, Chinese)
LG U+ Roaming Center
☞ Website: www.uplus.co.kr (Korean, English)
SIM Card Purchase (Korea SIM card)
Travelers can purchase SIM cards from the major retail stores, convenience stores or from the website of the respective service providers. More often than not, this service is cheaper than roaming phones, therefore preferred communication service by a large number of business travelers.
SIM Card Purchasable stores
Internet
Internet service is often provided in public places such as airports, train stations, and bus terminals in Korea. PC rooms and internet cafes are also great places to get internet service and easy to find throughout the country. In addition, many of popular tourist sites are equipped with free Wi-Fi connections as well help international visitors to stay connected with friends and families back at home.
Postal System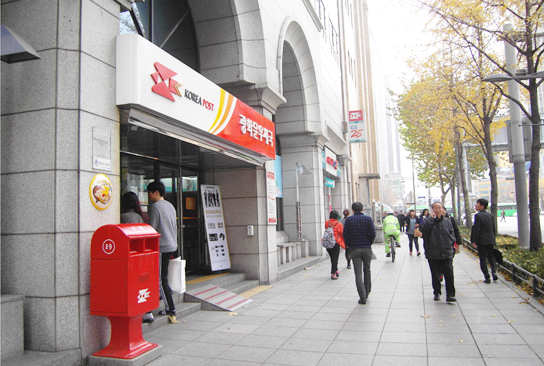 Any visitor to a foreign country may naturally want to send postcards or letters, sometimes parcels to home country. A few years ago, it was easy to find mailboxes on the street and in buildings. Finding a mailbox today is a bit more difficult because of the Internet revolution. If you cannot find a mailbox, you can ask your hotel front desk to put your letters or postcards in the mail or you can go directly to a nearby post office. Visit e-Post Korea for more details on post office locations, parcel services, purchasable items (stamps, postcards and letters for souvenirs) and more.

- e-Post Korea www.epost.go.kr (Korean, English)
* This page was last updated in November 2015, and therefore information may differ from what is presented here. We advise you to check details from the official websites before visiting.
<Last updated on November 23, 2015>