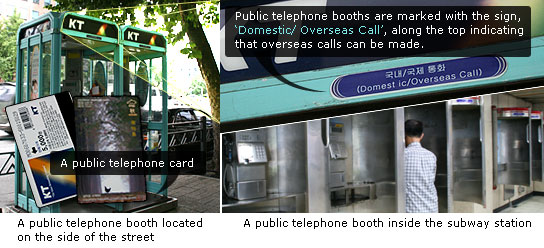 Many Koreans carry cellular phones nowadays, eliminating the need for public telephone booths. Though many public telephone booths have now been removed, they still exist on streets where there are many pedestrians, near bus stops, inside subway stations, and in most public transportation facilities. Public telephones in Korea not only provide domestic call services, but services for international calls as well.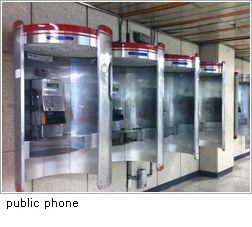 Korea's public telephones are separated into two main types: those that accept coins and those that accept only cards. The public coin telephone booths can generally take both credit cards and coins. Telephone cards can usually be purchased at convenience stands or stores near the telephone booths, and cannot be exchanged for cash. The cards are valid for a period of three years and can be purchased at 3000, 5000, or 10,000 won denominations. The cards can also be kept as a souvenir, as many cards are printed with a variety of popular Korean tourist sights and beautiful scenery.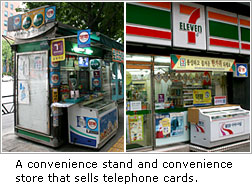 [Public Phone Rates]
- Local: 70 won/3 minutes(within 30km)
- Domestic Long - Distance(over 31km):
08:00-21:00 70 won/43 seconds21:00-08:00 70 won/61 seconds
- Cellular phone: 70 won per 38 seconds


* Note : Coin phones return coins that are not charged, but do not return change for partially used 100 won coins.



[How to make a phone call with telephone cards]



1. Pick up the receiver and insert the card into slot.
2. Listen for a dial tone and dial the phone number.
3. After you finish your phone call, hang up the receiver and your card will be ejected.

[How to make a phone call with coins]
1. Pick up the receiver and insert coins (70 won for local calls).
2. Listen for a dial tone and dial the phone number.
3. Hang up the receiver. Though you may have change leftover, change will not be given for partially used 100 won amounts.

[Domestic Long- distance Calls (Area Codes)]


Metropolitan Cities


Seoul (02), Incheon (032), Gwangju (062), Busan (051), Daegu (053), Daejeon (042), Ulsan (052)



Provinces


Gyeonggi-do (031), Gangwon-do (033), Chungcheongbuk-do (043), Chungcheongnam-do (041), Jeollabuk-do (063), Jeollanam-do (061), Gyeongsangbuk-do (054), Gyeongsangnam-do (055), Jeju-do (064).