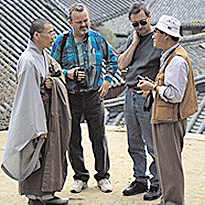 Application Deadline: Please apply between 10 to 30 days prior to your visit to Korea after confirming which cities you will visit.
Most Goodwill Guides have full-time jobs, therefore any sudden schedule changes may cause difficulties in their volunteer service. If you need assistance making travel plan,  please Go to Q&A.
You can check your application status at anytime, and will be notified via email as soon as there is a Goodwill Guide volunteer. If there are no volunteers within at least 5 days prior to your travel date, Goodwill Guide search will be automatically canceled and will notify you thereafter.
Notice Regarding Closure of Goodwill Guide Service

The Goodwill Guide service will be ending in March 2018 due to both internal and external circumstances. New applications will be accepted until March 19, 2018. Travelers who have submitted an application before this date will be contacted through email. We thank you for using the Goodwill Guide service!
☞ E-mail: goodwillguide@knto.or.kr